Introduction & description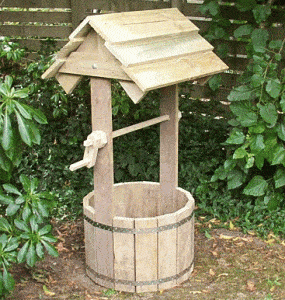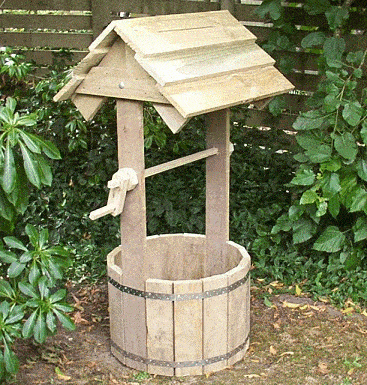 Fun to build!
This medium-size wishing well stands approximately 1400mm (4′-8″) high and 600mm (2ft) wide. It is a cross between a small planterPlanter box – A container in which ornamental plants are grown. and a full-size wishing well, and can be used either as a planter boxRough grade timber. or a garden ornament. This wishing well is a lot of fun to build.
About the lumberAny of the framing wood.
The lumber used in this project is pressure-treated boardA piece of sawn, or dressed lumber of greater width than thickness. Usually 19mm (3/4") to 38mm (1 1/2") thick and 75mm (3") or more wide.. You can use a different type of woodTimber, lumber. The hard fibrous lignified substance under the bark of trees as long as it is suitable for exterior use. For the most part, 100mm x 25mm (1×4) stock is used, the exception being the roof boardsBoards used to cover the roof. which are 150mm x 25mm (1×6), and the spindle and spindle handle which are 25mm x 25mm (1×1).
About the measurements
The measurements are given in both millimetres and inches. The millimetres are given first followed by inches in brackets. For example: 100mm x 25mm (1×4).
The metricMillimeter measurements. measurements are not an exact match to their imperialStandard. Feet and inch measurements. equivalents for rounding off purposes, so use one or the other.