The gap for

lumber

Any of the framing wood.

with rounded corners
The equation to find the gap needed between the palings (to form a circle) is easy enough to work out if the lumber used has square corners.
However, sometimes lumber has slightly rounded corners, and that is a horse of a different color.
You must measure the gap when two palings are together, as if they were fixed in place on the wall.
That scenario can be emulated by using a pattern as described below.
The wall of this wishing well is not really a circle as such, it is a 16 sided polygon called a hexadecagon. Actually, a regular hexadecagon because all the sides are the same.
So! make a pattern (as below) depicting two adjacent sides of a regular hexadecagon (16 sided polygon).
Then butt the edges of two paling pieces together at the vertex (where the angle changes).
The gap (at the top) between the two pieces is the gap that all of the palings will need to be spaced when making up the wall.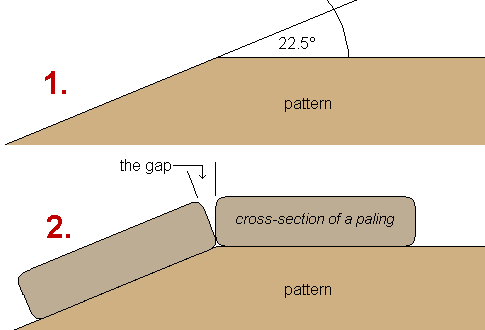 1. Using a piece of boardA piece of sawn, or dressed lumber of greater width than thickness. Usually 19mm (3/4") to 38mm (1 1/2") thick and 75mm (3") or more wide. or plywoodA piece of wood made of three or more layers of wood veneer laminated together with glue. or just about anything, cut an angle along one edge running 22.5 degrees off the edge line, as shown in fig.1 above. That is the pattern.
2. Using two off-cuts of paling, butt them together where the angle changes on the pattern, as shown in fig.2 above. The gap (at the top) between the two pieces of paling is the gap you will need to space all of the wall board pieces to form the circle for the wall.