Instructions – Steps 4 to 5
Step 4. Fixing the metal strap and forming the circle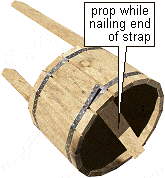 Now that the science lesson is over, and the 14 palings (a) and 2 extended palings (b) are all lying in place on even surface with correct gaps, the 2 metal straps (j)can be nailed to the palings using two 30mm (1 1/4″) galvanizedCovered with a protective coating of zinc. flathead nails at each meeting. Place the straps 40mm (1 1/2″) down from the top of the palings and 40mm (1 1/2″) up from the bottom.
See the drawing on page 5 for layout.
When the metal straps are nailed in place, flip the structure over and commence rolling it up. If the gaps between the palings are correct, it will form an accurate circle. Overlap the metal straps by 1 paling and nailA short nail with a large flat head used for securing roofing felt, plasterboard, sheet metal to wood etc. off. Use a prop to hold everything rigid while nailing the end of the strap.
Step 5. The roof
On a flat surface, make up the two roof frames by first screwing the rafters (c) together at the apex, then screwing the collar ties (d) to the rafters (c). Then nail the wedges (i) to the bottom topside of each rafterStructural member of a roof that supports the roof load and runs from the ridge to the top of the side walls.. See fig 1 below.
Next, sit the two roof frames upright on top of the two the extended palings (b) and clamp in place. Drill a 10mm (3/8″) hole through the collar tie (d) and the extended wall board (b) and fasten together using one 10mm (3/8″) galvanized boltA metal rod that has a head on one end and threads on the other and is used to fasten together lumber. The most common bolts used or referred to in projects within this website are coach/carriage bolts and hex bolts. 60mm (2 1/2″) long for each roof frame. See fig 2 below.
Screw the roof board (e) to the rafters (c), beginning with the lower roof board (e) overhanging the rafters (c)by about 20mm (3/4″). Then fixTo secure with nails or screws. the other roof boards (e) in place, ensuring that they are evenly spaced. See fig 3 below.