The seat base
Note: The picnic table combination comprises of two separate bench seat units. Both units are similar but are not identical.
Throughout this project the bench seat units will be referred to as unit 1 and/or unit 2.
Each bench seat unit has a back that can fold up to make a table. Both bench seat units can be fitted together to form a picnic table with seating for four adults and a couple of kids.
Step 1. Familiarize yourself
It is easier to take on a project if you're armed with a good understanding of exactly what is involved. This is best achieved by skimming through all the pages to get an overall 'feeling' for the project prior to commencing any practical work.
Step 2. Cut all the pieces
Cut all the individual pieces to the lengths and shapes as shown by the individual pieces detail on page 4. Begin by cutting the longest pieces first to minimize wastage.
Most of the pieces can be cut with a compound miter saw or even a circular saw but a jig-saw or similar will be needed to shape the arms [f], the tabletop supports [k] and the decorative fills [g]. The cutting list and the individual piece sizes, lengths and shapes are on page 4 and the piece identification is on page 3.
Step 3. Make the seat base
Make up the seat bases for units 1 & 2 as shown in the plans and also as shown in fig.1.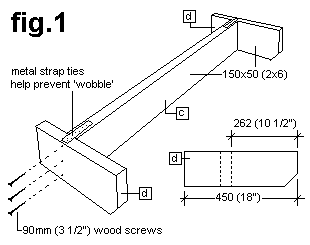 Each base comprises of a brace piece [c] and two base end pieces [d].
The brace piece [c] for unit 1 is 1290 mm (52″) long and the brace piece [c] for unit 2 is 1400 mm (56″) long.
Pre-drill the screw holes in the base end pieces [d] and then screw them to the ends of the brace piece [c].
Attach metal strap ties at all meetings to help prevent 'wobble'. See fig.1