The supporting branch or beam
Introduction
This is more or less your traditional basic rope swing, which might be seen hanging from the branch of a suitable tree in many a yard.

In our case, although we were lucky enough to have a tree that was big enough and strong enough to cope with a swing, unfortunately it did not have a suitable branch. So…. we made our own branch from of a beam secured with rope to other branches on the tree. We also made three different seat types to see which would be the one most preferred.

We made the swing strong enough to support an adult, as our hunch that big kids and adults would use the rope swing as much as smaller kids proved correct.
Instructions: The branch or beam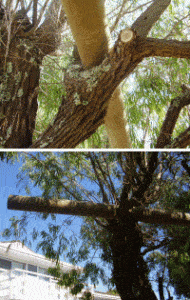 Obviously a tree with a branch suitable for holding a rope swing would be the ideal scenario. However an ideal tree is not always an option and sometimes other initiatives are called for, such as:

 Constructing a complete support frame. One such variation can be seen here.

 Constructing a branch using a beam or pole on a suitable tree.

We opted for the latter.

A treated, 125mm (5″) diameter round post 3000m (10ft) long was secured by rope to other branches on our chosen tree.
The cantilever (overhang) end of the post was placed in the fork of two strong branches for added support.
The overhang was approximately 1000mm (40″), one third of the total length of the post.
The height of the post was approximately 2600mm (8′ 8″) off the ground.
The main branch supporting the overhanging end of the post tapered out from the bottom of the tree, thus allowing plenty of gap between the swing seat and the trunk of the tree.
Dimensions are given in the picture below.