The seat and legs
Step 4. The seat boards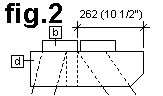 Place two seat boards [b] on each base. Position as shown in fig.2 and ensure that the overhangs at both ends of each boardA piece of sawn, or dressed lumber of greater width than thickness. Usually 19mm (3/4") to 38mm (1 1/2") thick and 75mm (3") or more wide. are equal.
Hold each board in place with a couple of nails and then screw the seat boards to the base with 90mm (3 1/2″) woodTimber, lumber. The hard fibrous lignified substance under the bark of trees screws through pre-drilled shankThe nail not including the head. holes.
Step 5. The legs
Turn the seat units upside down. Position (see fig.2, fig.3 and/or the plans) and clamp the legs to the base ends [d].
Drill and boltA metal rod that has a head on one end and threads on the other and is used to fasten together lumber. The most common bolts used or referred to in projects within this website are coach/carriage bolts and hex bolts. the legs to the base ends using one 10 mmAbbreviation for millimeter which is a metric unit of length equal to one thousandth of a meter. 25.4 mm equals one inch. (3/8″) galvanizedCovered with a protective coating of zinc. carriage bolt for each leg. Further secure with three 90 mm (3 1/2″) screws for each leg.
Add a block [n] to the front faceThe widest side of a piece of wood. of the base brace [c] to give the front seat board [b] extra support. FixTo secure with nails or screws. the blockBlocking. A pieces of wood that runs between other members (studs, joists, rafters) to provide support, add strength and/or act as a solid support between panel joins. to both the braceTo make rigid. and the seat board.