The seat and legs
Step 4. The seat boards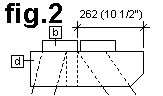 Place two seat boards [b] on each base. Position as shown in fig.2 and ensure that the overhangs at both ends of each board are equal.
Hold each board in place with a couple of nails and then screw the seat boards to the base with 90mm (3 1/2″) wood screws through pre-drilled shank holes.
Step 5. The legs
Turn the seat units upside down. Position (see fig.2, fig.3 and/or the plans) and clamp the legs to the base ends [d].
Drill and bolt the legs to the base ends using one 10 mm (3/8″) galvanized carriage bolt for each leg. Further secure with three 90 mm (3 1/2″) screws for each leg.
Add a block [n] to the front face of the base brace [c] to give the front seat board [b] extra support. Fix the block to both the brace and the seat board.