An attached pergola
by Les Kenny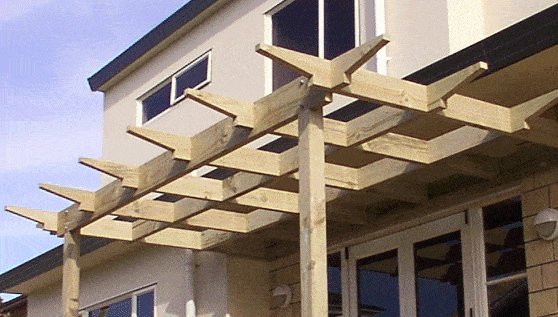 This is a solid 'box' pergola, so called because it is built with rows of solid blocking between the rafters forming rows of square or oblong boxes. This type of pergola is becoming increasingly popular and is relatively easy to build.
About the lumber
All the lumber used in this project is treated dressed/surfaced pine. The posts are treated for in ground applications, and the rest of the structure is treated for outside use. All the lumber sizes used in this project are readily available at most lumber merchants.
The lumber sizes referred to in this project are the nominal sizes. The nominal size of a piece of lumber is the size of the lumber before it is dressed or seasoned and is the size generally referred to when purchasing from the lumber yard. The actual size, or dressed size of the lumber will be less than the nominal size so please make necessary allowances. For example, a piece of 100×50 (2×4) lumber when dressed may be 90×45 (1 1/2″x 3 1/2″) actual size
Attached pergola plans
Below is the plan view (birds eye view, looking down), the front view plan and the side view plan.
The Posts, beams and rafters
A square hole (post size) is cut in the decking. The posts are placed through the hole in the decking and into a hole dug in the ground.
The bottoms of the posts are bolted to the deck joists or the deck boundary joist and also concreted into the ground.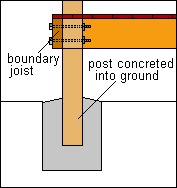 The roof structure
The ledger plate (also called stringer) is bolted to the house wall above the door with 12mm (1/2″) galvanized screws every 900mm (36″) apart. There is (in most cases) a lintel (beam) above all doors, thus ensuring solid fixing. The height of the ledger plate determines the overall roof structure height.
The required heights of the top of the posts are obtained by levelling across from the top of the ledger plate.
The top of the posts are rebated/checked out to accommodate the pergola beam. Refer to image below.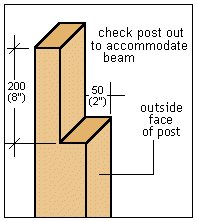 The beam is bolted in place. See the plans for dimensions.
The rafters are nailed in place between the ledger and the beam. See the plans for dimensions.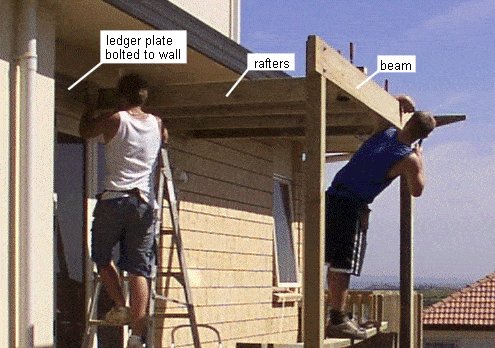 Attached pergola blocking and decorative rafter ends
The rows of solid blocking is placed and nailed between the rafters. See the plans for dimensions.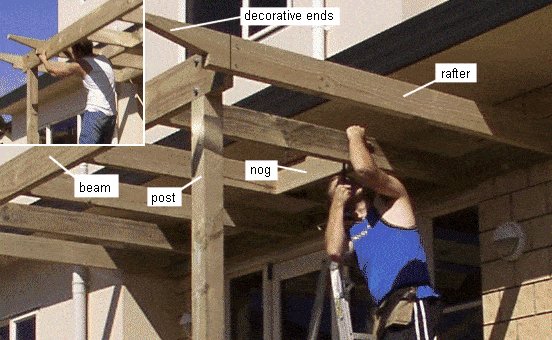 The decorative ends are a continuation of the rafters and the rows of solid blocking. They are secured in place with 2 90mm (3 1/2″) galvanized nails skewed, toe nailed through the lower part of the decorative ends and with nail plates fixed on the top edge. (see drawing)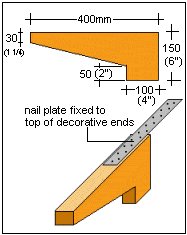 Securing the top together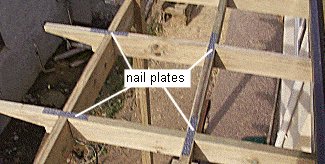 The pergola roof structure is locked together by fixing galvanized nail plates on the top edges of the rafters, blocking and decorative ends.
The Finish
All done. Eazy with a 'Z'
Materials and amount
• 150×50 (2×6) treated lumber for the rafters, blocking and decorative ends
30 metres (100 ft)
• 200×50 (2×8) treated lumber for the beam
3.6 metres (12 ft)
• 100×100 (4×4) treated lumber for the posts
7.2 metres (24 ft)
• Also
1kg (2.5 lb) gal 90mm (3 1/2″) nails; 20 galvanized nail plates; 8 12mmx120mm (1/2″x 5″) galvanized coach/carriage bolts, 2 bags concrete mix