Introduction | Measurements used | Description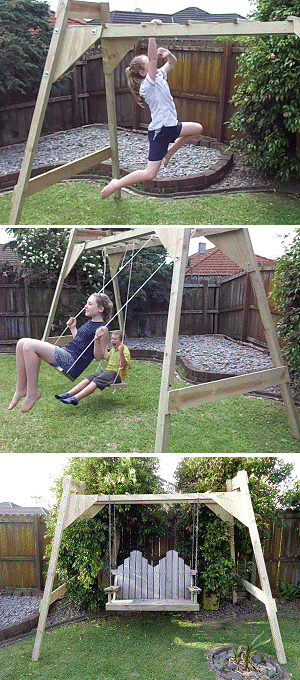 How to build a multipurpose frame that can be used as a brachiation ladder (monkey bars),
a swing frame, and as it turned out – even a frame to hold a bench swing.
This was another project instigated by my grandkids. They wanted something where they could climb and swing.
Measurements used
This project is written in both standard (inch) and metric (mm).
The standard measurements are given first followed by the metric measurements in brackets.
For example: 2×3 (75mm x 50mm)
Also note, the standard (inch) measurements are not an
exact match to their equivalent metric (mm) counterparts for rounding off purposes – so use one or the other and don't mix.
Safety note: Kids (and adults) can be very boisterous at times. This is a relatively lightweight structure.
A couple of kids swinging high in unison could possibly tip the unit.
Description
This is a relatively lightweight structure and inexpensive to build. The frame is constructed out of 2×3 (75mm x 50mm) wood.
That stock size is not too common in North America. If you cannot source that size wood, another option is to rip (cut length wise)
2×6 (150mm x 50mm) stock in half, or even upgrade to 2×4 (100mm x 50mm).
The unit stands 85 5/8″ (2140mm) high to the top of the bars, it is 125″ (3125mm) long,
and 72 3/4″ (1820mm) wide.