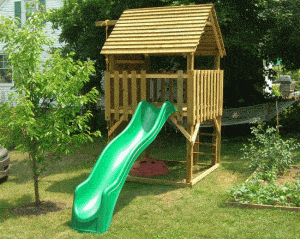 Introduction and about the

wood

Timber, lumber. The hard fibrous lignified substance under the bark of trees

sizes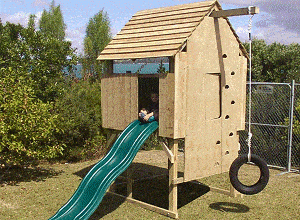 How to build a Kid's Play Fort – A fort that will provide hours of fun for kids young and old!
This detailed plan-set with step-by-step instructions is in both metricMillimeter measurements. (mmAbbreviation for millimeter which is a metric unit of length equal to one thousandth of a meter. 25.4 mm equals one inch.) and imperialStandard. Feet and inch measurements. (inch) dimensionsAny of the three linear measurements, length, breadth and depth..
The design includes a trap doorA horizontal framing member above the door/window opening. entry, a climbing wall, a swing, and there is also a slide installation guide.
The complete frame is fixed together with bolts, so as well as being very strong, the fort can also be dismantled.
The footprint (ground area) is Approx 1800mm x 1800mm (6′ x 6′), and the overall height is 3200mm (10′ 8″).
Floor area is 1500mm x 1600mm (5′ x 5′ 4″), and the floor height is 1300mm (4′ 4″).
About the wood sizes
The dimensions of the lumberAny of the framing wood. used for this project are given in both metric and inches. All dimensions are first written in millimeters followed by feet and/or inches encased in brackets.
Frame lumber sizes (widths and thicknesses) referred to in this project are the approximate actual sizes, that is, the size of the lumber once it has been surfacedSee Dressed. (dressedSurfaced; planed; smooth; even surface; gauged., planed). The actual sizeThe finished (dressed) size as opposed to the nominal size of a piece of wood. is smaller than the nominal sizeThe rough-sawn size of a piece of lumber. Before the lumber is surfaced, planed or dressed. The nominal size is usually greater than the actual dimension. e.g. 100x50 (2 x 4) actually equals 90x45 (1 1/2" x 3 1/2")..
For example, if you pop along to the local lumber store and ask for a length of 100mm x 50mm (2″ x 4″) lumber that has been surfaced/dressed on all sides (S4SSurfaced four sides. Dimensioned lumber that has all the faces and edges planed or sanded smooth. Lumber that has been planed smooth on all four sides.), the actual finished size will be approximately 90mm x 45mm (1 1/2″ x 3 1/2″).
The table below shows the approximate differences between the nominal and actual sizes of framing lumber. Alternative sizes are mentioned on the next page.
Metric (millimetres)
NOMINAL SIZE
ACTUAL SIZE
50mm x 50mm
45mm x 45mm
75mm x 50mm
70mm x 45mm
100mm x 50mm
90mm x 45mm
150mm x 50mm
140mm x 45mm
100mm x 100mm
90mm x 90mm

Standard (inches)
NOMINAL SIZE
ACTUAL SIZE
2″ x 2″
1 1/2″ x 1 1/2″
2″ x 3″
1 1/2″ x 2 1/2″
2″ x 4″
1 1/2″ x 3 1/2″
2″ x 6″
1 1/2″ x 5 1/2″
4″ x 4″
3 1/2″ x 3 1/2″