Step 3. Fixing the braces to the beams
Drill three 1/2″ (12mm) bolt holes in each plywood brace in the positions shown in the drawing below.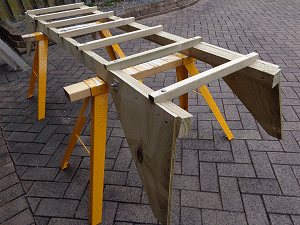 While the brachiation ladder (monkey bars) are still sitting on saw stools, fix the plywood braces to the ends of the beams as shown in the drawing.
Fasten each plywood brace in place with a couple of screws.
Drill through the holes in the plywood braces, and all the way through the beam.
Thread a 3/8″ (10mm) bolt through the innermost hole of each plywood brace, add a washer and nut, and tighten.