Step 3. Fixing the braces to the beams
Drill three 1/2″ (12mm) boltA metal rod that has a head on one end and threads on the other and is used to fasten together lumber. The most common bolts used or referred to in projects within this website are coach/carriage bolts and hex bolts. holes in each plywoodA piece of wood made of three or more layers of wood veneer laminated together with glue. braceTo make rigid. in the positions shown in the drawing below.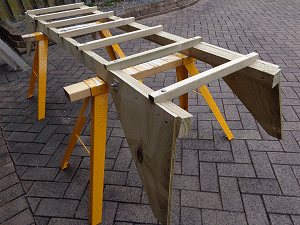 While the brachiation ladder (monkey bars) are still sitting on saw stools, fixTo secure with nails or screws. the plywood braces to the ends of the beams as shown in the drawing.
Fasten each plywood brace in place with a couple of screws.
Drill through the holes in the plywood braces, and all the way through the beamA supporting member..
Thread a 3/8″ (10mm) bolt through the innermost hole of each plywood brace, add a washer and nut, and tighten.