Wooden wheelbarrow project
Step 3. Making the wheel
Lay two pieces of 150mm x 25mm (1″ x 6″) boardA piece of sawn, or dressed lumber of greater width than thickness. Usually 19mm (3/4") to 38mm (1 1/2") thick and 75mm (3") or more wide., 300mm (12″) long, side by side, on a flat surface. Then glue (with exterior type glue) another two pieces on top of that, running at right angles across the first two boards. Then glue another pair on top of that, again at right angles to the layer below. In all, there will be three layers.
Hold them firmly together with clamps until the glue dries.
When the glue is dry, draw a circle with a 125mm (5″) radius (see the diagram) and cut the circle out with a table scroll saw, bandsaw, or heavy duty jigsaw. Drill a 25mm (1″) hole (or a hole slightly larger than the axle) through the middle of the wheel.
Step 4. The wheel and legs
Turn the barrow upside down.
Cut a piece of 25mm (1″) dowelA round wooden pin that is used to reinforce a wood joint. The round wooden pin fits into corresponding holes in adjacent pieces of wood and helps fastens them securely together. (round woodTimber, lumber. The hard fibrous lignified substance under the bark of trees), pipe, or similar, about 225mm (9″) long (the axle) and put it through the hole of the wheel.
Place the wheel and axle on top of the two support rails so that the wheel is central and straight.
FixTo secure with nails or screws. the wheel in place by securing the axle with saddle clips screwed to the support rails. Alternatively use U-bolts.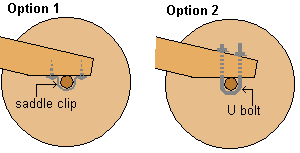 Finally, screw the legs to both the handles and the tray end panel [B] (refer to the picture).