Metric

Millimeter measurements.

version:
Plans – Material list
Below are the detailed plans and material list for every piece of timber needed to construct a bbq picnic table. There are no instructions for this one, as everything is pretty much self explanatory. Have fun.
Picnic table plans: End profile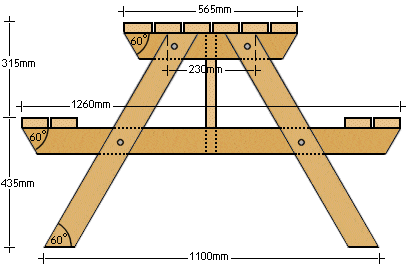 Picnic table plans: Front profile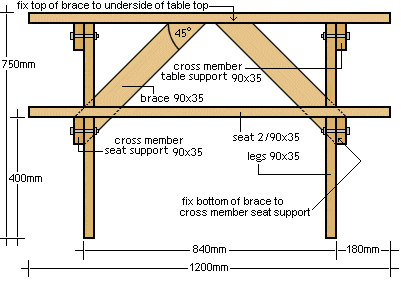 Picnic table plans: individual pieces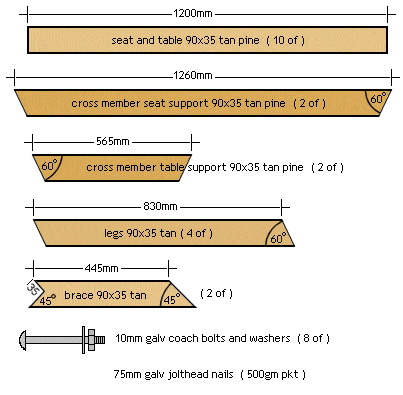 Materials required
90×35 treatedPressure treated. Refers to lumber that is treated in such a way that the sealer is forced into the pores of the wood. Refers to lumber pressure sprayed with chemicals to lengthen its life expectancy for outside use or inground applications. pine. 22 meters required allowing for 10% waist. Cut the longer lengths first and the shorter lengths from the off cuts.

8 only 10mm galvanizedCovered with a protective coating of zinc. coachAre round headed bolts with square shoulders that resist rotation when located or driven into place. They can be called coach bolts or carriage bolts depending on which part of the world you live in. The head end of the bolt does not need a washer, but the other end of the bolt (the nut end) usually does. bolts 90mm long with nuts and washers.

500gm (1/2 a kilo) bag of 75mm galvanized nails