Bench or picnic table for the kids
Introduction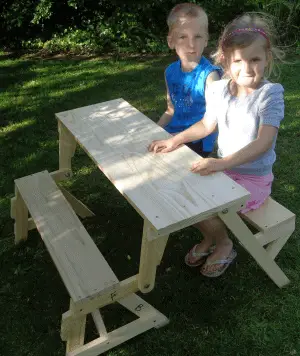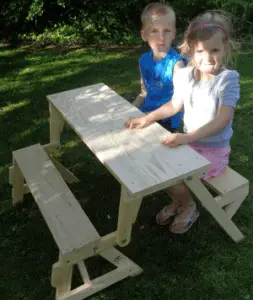 A mighty little bench come picnic table ideal for kids around the three to six year age group (give or take a year or so depending on the size of the kids).
As a bench seatA seat that is lacking a divider. A long seat for two or more persons it does not take up a lot of room and will seat a couple of kids quite comfortably.
When activity time comes around (drawing, eating, etc) it can be opened up very easily into a picnic table with two seats (one along each side) able to seat four kids.
The unit is 900 mmAbbreviation for millimeter which is a metric unit of length equal to one thousandth of a meter. 25.4 mm equals one inch. (35½") long. When in picnic table mode it is 814 mm (32″) wide and 493 mm (19 7⁄16″) high to the top of the table and 294 mm (11 9⁄16″) to the top of the rear seat.
When in bench mode, the complete unit is only 367 mm (14 7⁄16 ") wide.