Step 4. Connect the rear sections to the top sections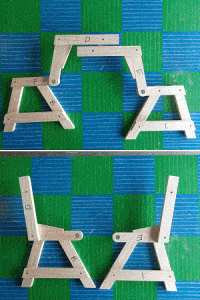 It is now time to join the frame sections together.
Align the bolt holes in piece [e] with the bolt holes in piece [f].
Place a washer in each starter hole and thread the bolts through the washers and the holes so that the bolt heads are housed (countersunk) in the starter holes.
Add a washer and a nylon locking nut to the end of each bolt.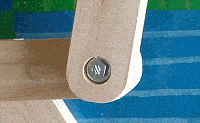 Note: Each bolt is used as a pivot point for two pieces of wood, therefore the nuts cannot be tightened completely otherwise the wood would not be able to 'pivot' freely.
Because the nuts can only be loosely tightened (just enough to allow the wood to pivot), nylon locking nuts (or similar) are required.
A nylon locking nut is a nut that resists further loosening or tightening under vibration and torque. It has a nylon collar insert.
You will now be able to pivot the top and rear sections. They should easily move from table position to seat position just as shown in the photos.