Step 6. Align the frames for seating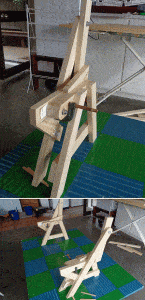 Fold the side frames over until pieces [e], [f], & [g] are all side-by-side, horizontal, and flush (even). Place a piece of cardboard temporary in between pieces [e] and [g] and then clamp the side frames to hold them in position until the seat boards and tabletop are fixed in place.
The cardboard is to ensure that pieces [e] and [g] are apart and do not bind when the unit is being folded.
Next place the two side frames apart and parallel in readiness for the seat boards to be fixed.
You might have to place a little packer under the front legs to balance the side frames upright until the seat boards are fixed.