Step 7. Fix the seats and tabletop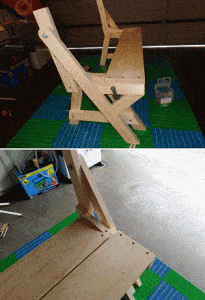 Fix the longer (front) seat to pieces [g] flush with the front and the outer sides of that piece. Glue and screw the seat in place.
Fix the shorter (rear) seat to pieces [f] flush with the end (of [f]). The seat should fit nicely between pieces [e2].
Do not force the seat in place. If it is too tight, cut a bit off the end.
Turn the unit over in such a position to make it easy to fix the tabletop.
Make the sides of the tabletop flush (even) with the ends of pieces [d] (the tabletop rails).
Ensure the overhang of the tabletop is equal at each end and fix it with glue and screws.