Step 9. Add the front leg stops & the seat braces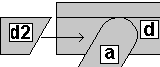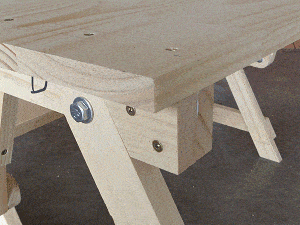 The leg stops [d2] are to stopThe part of the plywood wall panels that overlaps the door and window frame, and protrudes into the door or window area and covers any gaps between the door/window and the surrounding frame. It acts as a stop for the door and also stops the rain getting in. the legs spreading out and the table from collapsing.
When the unit is in picnic table mode, and the front legs are positioned (spread apart) according to the plans (spread dimensionsAny of the three linear measurements, length, breadth and depth. also given in the plan drawing below), then fixTo secure with nails or screws. the leg stops [d2] to the ends of the tabletop rails [d] so they are positioned flushBeing even with. with the ends of the tabletop rails [d] and against the front legs [a]. Fix with glue and screws.

The seat braces
With the rear seat unit upside down and securely resting on a work table or platform of some sort, ensure that the two side seat frames are at right angles to the seat, then fix the two braceTo make rigid. pieces [k] to the rear seat boardA piece of sawn, or dressed lumber of greater width than thickness. Usually 19mm (3/4") to 38mm (1 1/2") thick and 75mm (3") or more wide. and the rear seat lower rails [i].
Refer to the plans for placement although it is pretty much self explanatory where they go.
Guess what?   Done!