Step 6. Make the king chair seat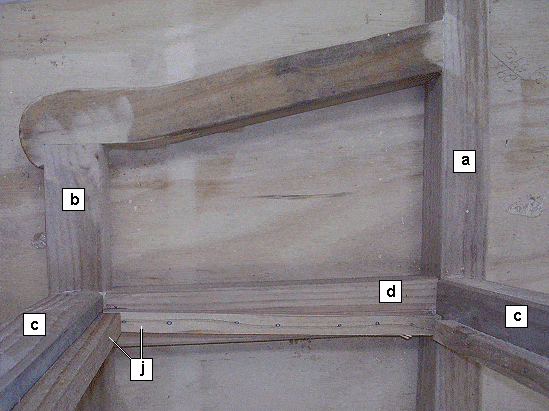 FixTo secure with nails or screws., with glue and 1-1/2″ (38mm) woodTimber, lumber. The hard fibrous lignified substance under the bark of trees screws, a 1″x 1″ (25mm x 25mm) fillet of wood around the inside edge of the seat frame for the seat boards to sit on.
Have the 1″x 1″ (25mm x 25mm) side fillets [j] slanting down towards the back of the seat, as shown in the diagram below.

Next cut the 1″ x 6″ (25mm x 150mm) seat boards [k] to length and glue them in place on top of the fillets [j].
The last boardA piece of sawn, or dressed lumber of greater width than thickness. Usually 19mm (3/4") to 38mm (1 1/2") thick and 75mm (3") or more wide. will need to be ripped down (cut lengthways) in order to fit.