Step 7. Make the king chair base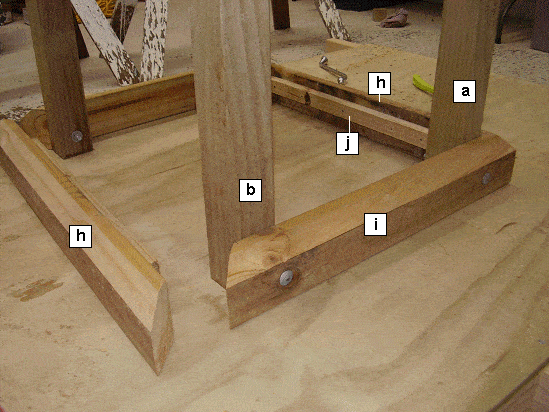 Angle one edge of the 1 1/2″ x 3 1/2″ (90mm x 38mm) stock to be used for the base.
Measure (allowing for miter cuts) and cut the front and rear base pieces [h] and the two side base pieces [i].
BoltA metal rod that has a head on one end and threads on the other and is used to fasten together lumber. The most common bolts used or referred to in projects within this website are coach/carriage bolts and hex bolts. the two side pieces [i] to the bottom of the legs and glue and screw the front and rear base pieces [h] to them.
Next screw 1″ x 1″ (25mm x 25mm) fillets [j] around the inside of the base pieces [h] and [i], 1″ (25mm) down from the top.
Cut the 1″ x 6″ (25mm x 150mm) base boards [k] to length and glue them in place on top of the fillets [j].
You will have to cut around the legs and ripA cut lengthwise along a board that also runs with the grain. (As opposed to cross-cut.) the last boardA piece of sawn, or dressed lumber of greater width than thickness. Usually 19mm (3/4") to 38mm (1 1/2") thick and 75mm (3") or more wide. in order for it to fit.