Ideal for the garden
This King chair or 'garden throne' is just as much a garden ornament as it is something to sit on. In fact it is probably not the most comfortable of chairs to laze or slouch in but rather a "sit up straight" chair where you can sit proud and run your eyes over your kingdom (or compost heap).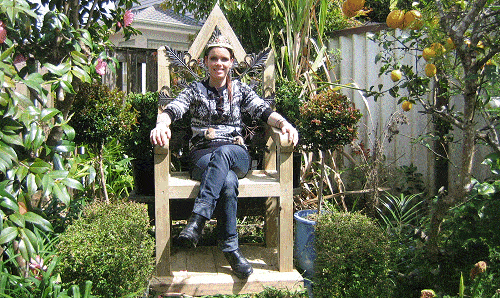 In this documentation:   We begin (in this order) with a bit about wood and wood sizes, some plan drawings, the material requirements, the cutting list, and the step-by-step instructions with specific plan drawings along the way, and heaps of relevant photos.
Wood and Wood Size
The measurements in this project are in both inches and millimetre. The inches are given first followed by their metric equivalents in brackets – for example: 3″x3″ (75mm x 75mm).
The wood I used to make the chair frame was treated dressed (smooth/planed) pine.
The wood size (width and thickness) I used for the frame was 3″x3″ (75mm x 75mm) actual size.
That is not a common wood size but it is the size that I wanted, so I more or less had to rip and plane it out of bigger wood. Take heart that if you decide to resize any of the wood, it is not such a great amount.
A more common dressed wood size is 3 1/2″ x 3 1/2″ (90mm x 90mm). In retrospect I would have used 3 1/2″ x 3 1/2″ (90mm x 90mm), as I think that the king chair could have handled a slightly bulkier look. Basically, If you use any stock size between 3″x3″ (75mm x 75mm) and 3 1/2″ x 3 1/2″ (90mm x 90mm) for the chair frame, it will look just fine.