How to fit lattice into a frame
The Frame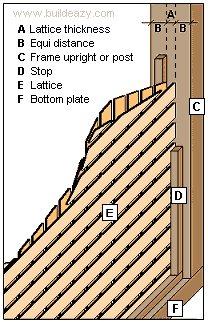 The lattice frame usually consists of uprights (posts) and top and bottom plates.

The uprights, in a lot of cases are posts either concreted into the ground or bolted to another structure such as a deck or retaining wall.

An upright may be a post for a fence, a pergola, an arbor, a screen, among other things. Usually a post is either 100×100 (4×4) or larger in size and can be either smooth (dressed) or rough (rough sawn).

The plates are the completion of the lattice frame and run horizontal between the posts, one at the top (top plate) and one at the bottom (bottom plate).

The plates are usually 100×50 (2×4) or larger . The plates can be a bigger size especially if the span is greater than 1800mm (6ft) although it is not advisable to have a lattice frame section spanning more than 1800mm (6ft).
Fitting the Lattice:
Notes
Lattice panel can be cut to order or purchased in ready made panels in sizes such as 600mm (2ft) x 2400mm (8ft) or 1200mm (4ft) x 2400mm (8ft).

Use natural decay resistant or treated wood and galvanized nails.
Measuring the lattice
Measure between the top and middle rail and between the two posts in each section and deduct 5mm (1/4″) from the measurement to allow for play. For example, if the exact measured size of a particular section is 2200mm (88″) wide x 250mm (10″) high, then the lattice size for that section would need to be 2195mm (87 3/4″) wide x 245mm (9 3/4″) high.

Measure the same way in every section and order the lattice of your selected profile or purchase pre-made panels and cut to suit.
Fitting the Lattice
The objective is to sandwich the lattice between two pieces of wood (stops) that are fixed to the posts and rails.

25mm x 25mm (1″x1″) square stops are used in this example.

(1) Firstly, fix the stops around the inside of the frame to one side only.

(2) Insert the lattice.

(3) Fix the stops against the lattice on the other side (see drawing).