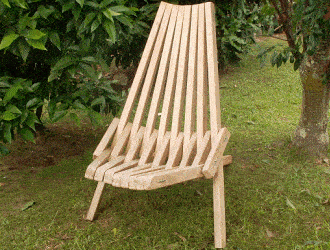 Preface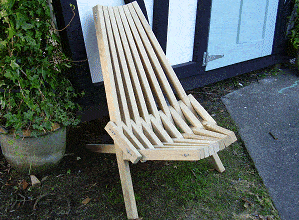 History unknown. I first made a couple of these chairs some six or seven years ago after obtaining a rough plan from a friend who used to make them in his spare time – not only for around his own house but as gifts for his friends and relatives. He got the plans by measuring off a chair that his father had made but has no idea where his father got the original plans. Regardless, the design has been around for some time.
The chair doesn't appear to have a common name. I have heard it called by various names including "stick" chair, "Kentucky" chair, "garden" chair, "folding" chair, but to name a few. By my way of thinking, none of those names seem to be a perfect fit for this chair. So I'm going to call this chair "the Kentucky Stick Chair". One thing's for sure, the design isn't confined to Kentucky. Maybe it originated there – who knows? Some feedback might enlighten us as to its origin.
Anyway, let's re-visit the project, dust off the old sketch plans and build another.
Introduction
This is a fun project.
In simply involves cutting all the pieces (sticks) to length, drilling holes through all the pieces at the given points, and then threading wire through the holes to tie all the pieces together.
Voila. A comfortable chair that can easily be folded up and stored, or carried.
The chair is a low, laid back, comfortable bucket-type chair.
Sit in it, and you won't want to get out.
It is made out of a number of narrow pieces of wood (sticks) that are interwoven and held together with wire thread through holes drilled in all the individual pieces.
When finished, the chair can be easily folded up and stored, or carried.