Attaching the swing rope
Instructions continued: Attaching the swing rope
The rope we used for the swing was just good old-fashioned sisal rope 13mm (1/2″) thick. Sisal rope needs some attention at the ends to prevent the fibers untwisting and coming apart (see drawings at the bottom of the page) but does give a more traditional look than synthetic ropes.
Tying the rope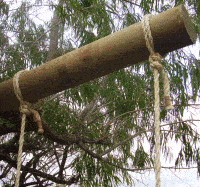 The ropes were tied to the round post using a round turn and three half hitches.

See below for explanations regarding the knots.

One rope was tied 100mm (4″) in from the end of the post. The gap between the two ropes was 500mm (20″).

Half hitches were also used to tie the ropes to the seat.

The ends of the rope needed 'whipping', which means that they needed to be bound with a whipping twine to stop the rope from fraying. See below.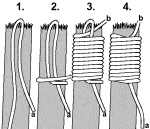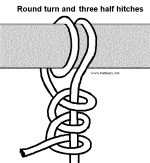 Note: The metric (mm) sizes given in this project do not convert exactly to their corresponding ft and inch equivalents.