The

eaves

The part of the roof which extends beyond the exterior side wall. The projecting lower edge of a roof where the gutters are located. The eaves are made up of both the soffit (covering for underside of an overhang) and the fascia (A horizontal trim fixed to the ends of the roof rafters).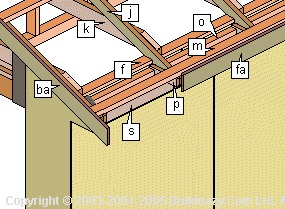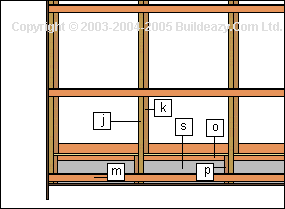 [f]
Frame

top plate

The top horizontal framing member of the wall.

100×50 [2×4]
[p]

Sprocket

Tool used to ensure surfaces are level or plumb by means of a bubble in a tube of liquid fitted to the level.

75×40 [1-1/2×3].

Member

Piece of lumber that is part of a frame or structure.

from wall to

fascia

Exterior horizontal visible flat front trim board that caps the rafter tail ends.

to support

soffit

Eaves lining; The underside board of eaves and rakes.

[j]

Rafter

Structural member of a roof that supports the roof load and runs from the ridge to the top of the side walls.

100×50 [2×4]
[s]
Soffit 4.5 [1/4″] thick under eave cover
[k]

Ceiling joist

A horizontal framing member to which ceiling linings are fixed.

200×50 [2×8] spans the width of the

garage

A building or enclosure primarily designed to house motor vehicles. It can be either attached to the main house or detached and surrounded by open space.

and is fixed to the rafters
[ba]

Barge board

Exterior visible flat trim board that follows the rake of the roof.

150×25 [1×6]
[m]

Purlin

Timber used to support roofing sheets. Usually fixed on top of rafters.

75×50 [2×3]
[fa]

Fascia board

The top horizontal board cappingCovering the top ends of the rafters.

150×25 [1×6]
[o]

Ribbon plate

Ribbon board, soffit board;A horizontal member fixed to the top of the studs and supporting the sprockets.

50×50 [2×2] fixed against wall frame to take sprockets
Eaves section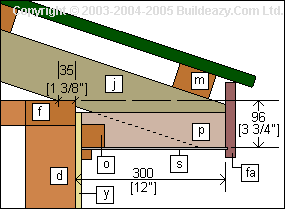 The ribbon plate [o] is fixed horizontally to the side walls 96 [3-3/4″] down from the top plate [f]. This is called the "drop height".
The sprocket [p] or "soffit board" is a horizontalParallel to the horizon, flat, level. member fixed to the end of the rafter and to the ribbon plateThe top or bottom horizontal framing member of the wall.. The eaves liningSoffit; The underside board of eaves and rakes.[s] is attached to the sprockets and usually also slotted into a groove in the fascia board [fa].
Cladding

The exterior surface of a building.

at the end of the eaves
The cladding at the end of the eaves follows the rakeAngle of roof. of the roof and is cut horizontally flushBeing even with. with the bottom of the fascia boardA piece of sawn, or dressed lumber of greater width than thickness. Usually 19mm (3/4") to 38mm (1 1/2") thick and 75mm (3") or more wide..
The eaves lining or soffit, can then butt up to the cladding.