The roof

cladding

The exterior surface of a building.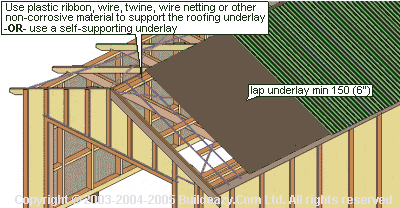 Roof nailing: FixTo secure with nails or screws. the roofing ironCorrugated metal sheet used to clad roof. to the purlins (m) with appropriate roofing nails/screws. Fix to the top and bottom purlins at every second corrugation and fix to the intermediate purlins at every 3rd or 4th corrugation. Fix through the high side of the corrugation.
Roof overhang: Overhang the roofing approx 65 (2 1/2″) past the fasciaExterior horizontal visible flat front trim board that caps the rafter tail ends. board (fa) or 50 (2″) past the back of the gutter.
Ridge flashingFlashing that covers or caps the ridge of a roof.: Usually standard about 130 (5″) each side of the apex but can vary and any size can be made to order. Have the ridgeThe horizontal line at the top of opposing sloping sides of a roof running parallel with the building length. flashingAny piece of material, usually metal or plastic, installed to prevent water from penetrating the structure. in mind when positioning the top purlinTimber used to support roofing sheets. Usually fixed on top of rafters.. Fix to the purlin at every second corrugation.
Barge flashing: The barge flashing goes under the ridge flashing at the top. Fix to each purlin (through two corrugations) and also to the barge board (ba)