The gate plan, wheels and the latch design
The gate design

Making a sliding gate solely out of wood was going to take a little bit of thought as my inquiries told me that most substantial sliding gates required a metal frame to prevent warping.
I was pretty confident that I could make a gate out of wood that would not warp but it would have to be a specific design.

I decided on a design not unlike an interior house wall, comprising of a 'wall frame' with lining (covering) on both sides of it. (Scroll down to see the frame plan.)

I also wanted some small windows with lattice in the gate, so it would not look too much like a solid wall.

I made a wall-type frame out of 2″x3″ (75mm x 50mm) lumber and covered both sides with 1/2″ (12mm) plywood.

The plywood (nailed and glued adequately) would act as a brace. I also incorporated additional diagonal bracing into the frame.

I figured that having both sides of the frame covered and braced with plywood would help to prevent warping, because any movement in the wood (such as shrinkage/expansion) should be equal on both sides, thus cancelling any forces that might cause the gate to warp. Anyway, that was my theory.

I also ensured that the frame was well fixed with nails and metal strap, the plywood was well glued and nailed, and that there was a good covering of paint.
Gate frame plan
Approximately 12ft (3600mm) wide x 6ft (1800mm) high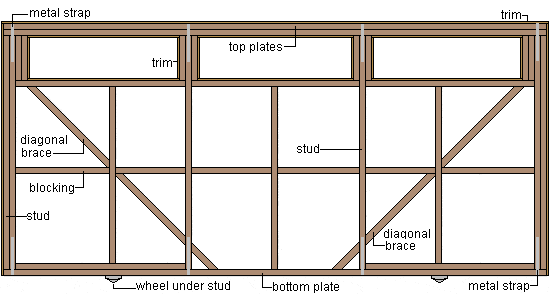 The gate frame was made out of 2″x3″ (75mm x 50mm) lumber.
2″x4″ (100mm x 50mm) lumber could also be used and would be just as good – if not better – as the wider the lumber, the more rigid the gate will be. However, the wider the lumber, the heavier the gate will be.
The wheels

The wheels were easily obtainable from any number of fence and gate companies. The wheels that I used had a loading of 440lb (200kg) each, which meant that the two of them together could support a gate that weighed up to 880lb (400kg).
My gate came well under that (I think).

The wheels had a 'U' groove, a diameter of 3″ (75mm) and were 1″ (25mm) wide.
Latch design
Because I couldn't find a suitable latch to suit my requirements, I designed my own, took the design to an engineer and had it made. The latch worked very well and was exceptionally strong.
It basically consisted of one piece (b) that was fixed to the top of the gate and another piece (a) that was bolted to the top of the gate post.
Piece (b) slid into piece (a) and clicked shut.


Below is the design I took to the engineers.