Installing the track and measuring the gate height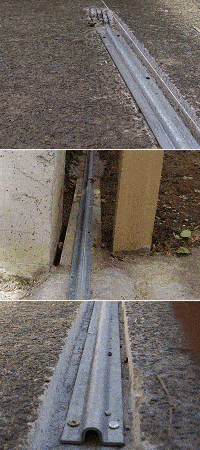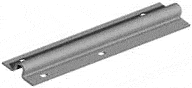 I used a 'U' (half-round) profile track that was pre-drilled and galvanized.
The track was easily obtainable from any number of fence and gate companies, and came in 20ft (6m) lengths.

By now, I had a continuous straight surface to fix the track to so it was really just a matter or laying the track in place and securing it to the surface using the appropriate fasteners.

To fasten the track to the concrete I used two types of fasteners (just to try them out):
1) A Concrete expansion-type fastener.
2) Drive-In Spike Concrete Fasteners.
For both types, I had to first drill a hole into the concrete the same thickness of the fasteners.

To fasten the track to the wood I used wood screws and galvanized nails.
Determining the gate height
Just about time to start making the gate.

I already had the gate plan in mind (I had to know the thickness of the gate in order to fix the track in the right place), and once the track was in place I was then able to determine the exact height that I needed to make the gate. I did this by measuring from the top of a wheel (which I held on the track) to wherever I wanted the top of the gate to finish.