Making the gate
I knew the sliding gate would have to be strong and built well to minimize any warping.
I decided on a design like interior house wall, comprising of a 'wall frame' with lining (covering) on both sides of it. You can see the frame plan (Page 2).
Having both sides of the frame covered and braced with plywood should help to prevent warping, as any movement in the wood (such as shrinkage/expansion) should be equal on both sides, therefore cancelling any forces that might cause the gate to warp.
I made the frame out of 2″x3″ (75mm x 50mm) lumber and covered both sides with 1/2″ (12mm) plywood.
The plywood (nailed and glued adequately) would act as a brace. I also incorporated additional diagonal bracing into the frame.
I also ensured that the frame was well fixed with nails and metal strap, the plywood was well glued and nailed, and that there was a good covering of paint.

Below is a sequence of photos showing the building process, followed by an explanation of each photo.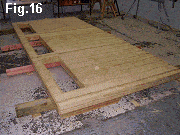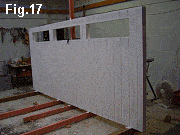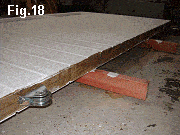 Fig.1 The top and bottom plates placed together so that the stud positions can be marked.

Fig.2 The plates spread apart on the ground and the studs positioned on the marks.

Fig.3 The window holes made (for the lattice).

Fig.4 The intermediate studs positioned and fixed.

Fig.5 A row of blocking fixed in place.

Fig.6 Metal strapping around the plates fixed to the tops and bottoms of the studs.

Fig.7 A closer look at the metal strapping.

Fig.8 The plates made straight using a string line and packers.

Fig.9 1/2″ (12mm) treated grooved plywood glued and nailed in place.

Fig.10 More 1/2″ (12mm) treated grooved plywood glued and nailed in place.

Fig.11 The frame turned over.

Fig.12 Diagonal bracing lengths laid in place to be marked for cutting.

Fig.13 Diagonal bracing pieces glued and nailed in place.

Fig.14 More 1/2″ (12mm) treated grooved plywood glued and nailed in place.

Fig.15 The trim glued, nailed and clamped in place.

Fig.16 Clamps taken off, ready for painting.

Fig.17 The painting commences.

Fig.18 The wheels are fixed to the bottom of the sliding gate.