Introduction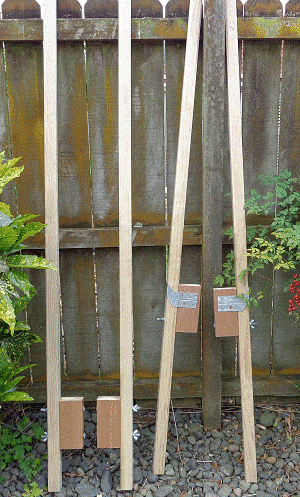 Stilts are simple to make and a lot of fun! These stilts have adjustable foot rests and can be used by kids aged from around 8 years to adults.
They are a great tool to improve a kids balance and coordination.
Most kids learn to master the art of walking on stilts in no time at all – some tend to get it straight away while others take a little longer.
If you are going to make a pair, you will probably benefit by making at least two pair at the same time.
I certainly found that to be the case with my grandkids.
These stilts are made out of 2×2 (50 mm x 50 mm) lumber for the legs and 2×4 (50 mm x 100 mm) lumber for the footrests.
There are two footrest options.
Footrest option #1 – each footrest is fixed to the leg with two bolts.
Footrest option #2 – each footrest is fixed with one bolts and a metal 'wrap around' plate (a re-shaped joist hanger).
The latter is faster for adjusting the height of the footrest and is great if the kid wants to continually change the height of the footrests.