Steps 3 to 4:
Step 3.

Chamfer

A beveled cut along the edge of a piece of wood.

the handles

The handles are the top part of the legs.
Chamfer the four corners of the handles 39″ (990mm) down from the top.
In other words, planeA flat surface extending infinitely in all directions (e.g. horizontal or vertical plane). Any flat, two-dimensional surface. or sand the corners of the handles (top part of the legs) to make them more comfortable to hold.
Step 4. Prepare the footrests
There are two footrest options.
With footrest option #1 each footrest is fixed to the leg with two bolts.
With footrest option #2 each footrest is fixed with one boltA metal rod that has a head on one end and threads on the other and is used to fasten together lumber. The most common bolts used or referred to in projects within this website are coach/carriage bolts and hex bolts. and a metal 'wrapA cover or protection such as a building paper that envelops the exterior walls or roof frame prior to the cladding being fixed. Reduces air movement and helps avoid the risk of water ingress. around' plateThe top or bottom horizontal framing member of the wall. (a re-shaped joistOne of a series of parallel members used to support the floor. Part of the framing that provides the structure for a floor. hanger).
The latter is faster for adjusting the height of the footrest and is great if the kid wants to continually change the height of the footrests.
Step 4a. Footrest option #1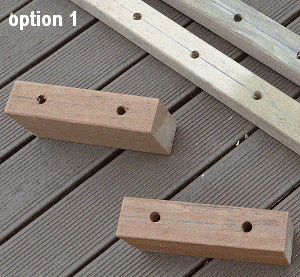 The footrests are out of 2×4 (50 mmAbbreviation for millimeter which is a metric unit of length equal to one thousandth of a meter. 25.4 mm equals one inch. x 100 mm) stock, and each one is 7″ (178mm) long.
Carefully measure and mark the drill holes on both sides of the footrests.
Ensure the marks are exactly 4″ (100 mm) apart so that they line up with the holes in the stilt legs.
Drill 1/2″ (12mm) holes through the footrests where marked. Drill halfway through from each side to ensure the holes are in the middle on both sides.
Reader Interactions