Steps 3 to 4:
Step 3. Chamfer the handles

The handles are the top part of the legs.
Chamfer the four corners of the handles 39″ (990mm) down from the top.
In other words, plane or sand the corners of the handles (top part of the legs) to make them more comfortable to hold.
Step 4. Prepare the footrests
There are two footrest options.
With footrest option #1 each footrest is fixed to the leg with two bolts.
With footrest option #2 each footrest is fixed with one bolt and a metal 'wrap around' plate (a re-shaped joist hanger).
The latter is faster for adjusting the height of the footrest and is great if the kid wants to continually change the height of the footrests.
Step 4a. Footrest option #1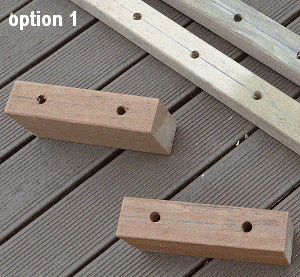 The footrests are out of 2×4 (50 mm x 100 mm) stock, and each one is 7″ (178mm) long.
Carefully measure and mark the drill holes on both sides of the footrests.
Ensure the marks are exactly 4″ (100 mm) apart so that they line up with the holes in the stilt legs.
Drill 1/2″ (12mm) holes through the footrests where marked. Drill halfway through from each side to ensure the holes are in the middle on both sides.
Reader Interactions