Making and fixing the

box

Rough grade timber.

in place
Step 1. Make the box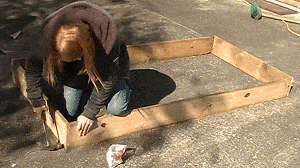 Lay the two sides on even ground spread apart 3ft (900mm).
NailA short nail with a large flat head used for securing roofing felt, plasterboard, sheet metal to wood etc. the two end pieces (one each end) to the sides.
Use 2″ (50mm) galvanizedCovered with a protective coating of zinc. nails. Three at each corner.
Step 2. Position the box and stake it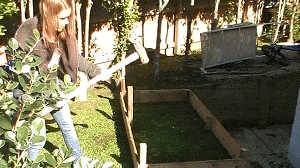 Pick up the box frame and position it where you want your garden to be.
Place six stakes around the inside of the frame, one at each corner and one in the center along each side.
Hammer them into the ground as far as possible – ideally so that the top of each stake is flushBeing even with. with the top of the frame.
Step 3.

Trim

The finish materials in a building, such as narrow boards applied around openings (window trim, door trim) and vertical corner battens.

the stakes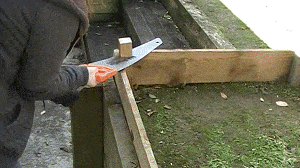 Sometimes (because of ground conditions) it may not be possible to hammer the stakes all the way in so they're flush with the top of the frame. Maybe parts of the ground are too hard.
In that case, once the stake is hammered in, if the top finishes above the top of the frame, then trim it off with a handsaw to make it flush.
Step 4. Clamp and

fix

To secure with nails or screws.

the stakes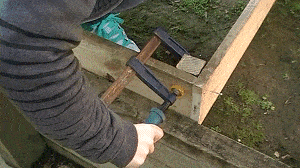 Clamp the stakes to the side of the frame to eliminate the 'spring/bounce effect' while you nail.
Nail through the frame into the stakes.
Use 2″ (50mm) galvanized nails, four at each corner and two for each center stake.