Preparing the

box

Rough grade timber.

and adding the soil
Step 5. Cover the inner box with plastic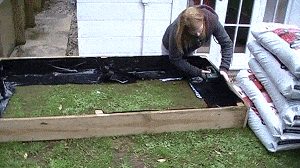 If you are using treatedPressure treated. Refers to lumber that is treated in such a way that the sealer is forced into the pores of the wood. Refers to lumber pressure sprayed with chemicals to lengthen its life expectancy for outside use or inground applications. woodTimber, lumber. The hard fibrous lignified substance under the bark of trees, staple plastic film to the inside of the frame.
The plastic will stopThe part of the plywood wall panels that overlaps the door and window frame, and protrudes into the door or window area and covers any gaps between the door/window and the surrounding frame. It acts as a stop for the door and also stops the rain getting in. the poisons from the frame seeping into the soil.
A good source of plastic film is from plastic rubbish bags or maybe even from the bags that you buy the soil in.
Step 6. Fill the box with garden soil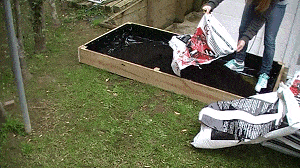 Fill the veggie/herb box with potting mix, garden soil or similar
The box will take approximately 9 cubic ft (240 litres) of soil.
The soil can generally be purchased in handy plastic bags of varying sizes.
Step 7. Begin planting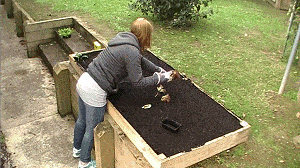 Start planting.
Need some garden advice?
Garden centersCrs; O.C; Term used for spacing; The measurement of spacing for studs, rafters, and joists in a building from the center of one member to the center of the next. in your own locality are always good places to seek planting advice as they are familiar with local conditions.
A while later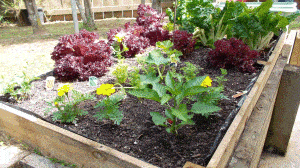 There you are.
Nothing like fresh home-grown vegetables or herbs.