Instructions continued
Cut the members and rebate the ends
Cut the four planterPlanter box – A container in which ornamental plants are grown. boxRough grade timber. sides from 150mm x 50mm (2″x6″) lumberAny of the framing wood..


Make two pieces 600mm (24″) long and two at 350mm (14″) long.

Mark where the rebates are to go at both ends of the two side pieces.
SetHow much the teeth are angled out on a circular saw blade. the blade on an adjustable circular saw to the required depth (about 2/3 of the thickness of the lumber).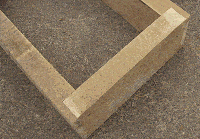 Make repeated saw cuts over the area to be rebated. The more saw cuts, the easier the rebateAn L-shaped cutout with one side, that is always at an end or side of a member, unlike a notch that is a U-shaped cutout. will be to clean out. (See picture).


Finish cleaning out with a sharp chisel.
Nail

A short nail with a large flat head used for securing roofing felt, plasterboard, sheet metal to wood etc.

the sides together
Nail the sides together as shown in the diagram below.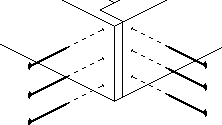 Position the planter box
All done!
Fix
To secure with nails or screws.
the planter box to whatever structure it is intended for.