Plans, Layout
The drawing below shows the shed floor layout (fig.1), the shed roof layout (fig.2) and the wall studA 100×50 (2×4) vertical framing member used to construct walls. placement (fig.3).
There are some explanatory notes below the drawing.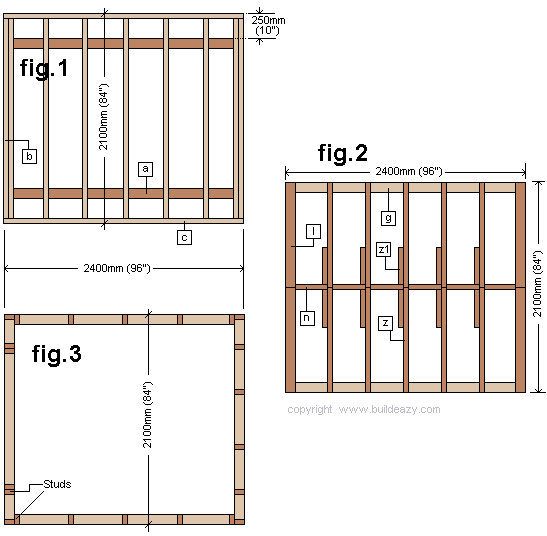 fig.1 – Floor layout
The floor layout plan gives the overall dimensionsAny of the three linear measurements, length, breadth and depth. of the floor frame.
The floor frame is constructed of 100×50 (2×4) joists [b] and end joists [c] and sits on 100×100 (4×4) skids [a] .
All floor frame lumberAny of the framing wood. should be treatedPressure treated. Refers to lumber that is treated in such a way that the sealer is forced into the pores of the wood. Refers to lumber pressure sprayed with chemicals to lengthen its life expectancy for outside use or inground applications. or otherwise suitable for exterior use.
Individual memberPiece of lumber that is part of a frame or structure. lengths are given in the Parts List.
fig.2 – Roof layout
The shed roof layout plan gives a birds-eye view of the roof frame layout. The members shown in the roof frame plan are the side wall top plates [g], the front and rear wall rakingRunning parallel with the slope of the roof at the gable. top plates [l], the middle rafters [z], the collar ties [z1] and the ridgeThe horizontal line at the top of opposing sloping sides of a roof running parallel with the building length. blockingBlocks, see Block. [n].
All the members in the roof frame are 100×50 (2×4) stock.
Individual member lengths are given in the Parts List.
Drawings showing individual member lengths and angle cuts are below in the Plans section, (Front and Roof Plans)
fig.3 – Stud layout
The shed stud layout plan gives a birds-eye view of the wall stud layout.
More detail, placement measurements as well as individual member lengths and angle cuts are shown below in the Plans section, (Front and Roof and Rear and Side Plans)