Making the boot

box

Rough grade timber.
Step 7: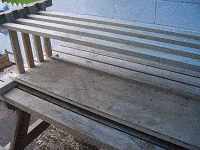 Lay the frame on its side and fixTo secure with nails or screws. one of the plywoodA piece of wood made of three or more layers of wood veneer laminated together with glue. panels [e] to the rails [c] as shown in the picture.
Flip the unit over and repeat with the other panelA sheet that forms a distinct flat and rectangular section or component. A transparent panel used to fill a framed section of a window. on the other side.
Step 8: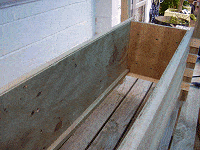 Measure cut and fit the two side plywood panels [g].
Step 9: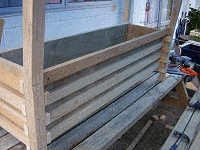 Screw the lid support [h] to the top rear rail [c] but first, position the lid support [h] so that it is 18mm (3/4″) above the top of the top rear rail [c] which is the thickness of the lid [i].
Pre-drill all the screw holes in the lid support [h].

Step 10: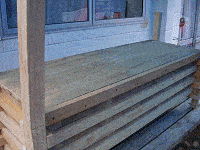 Cut and position the lid [i].
Ensure that the lid has at least 6mm (1/4″) clearance on each side so that it can open and shut without grinding against anything.
Step 11: 
Fix three evenly spaced hinges to the lid [i] and the lid support [h].