Making the back-rest
Step 12: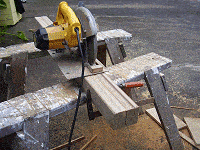 Cut the two back-rest rails [j] to length.
Mark the rebateAn L-shaped cutout with one side, that is always at an end or side of a member, unlike a notch that is a U-shaped cutout. on both pieces. See the drawing below.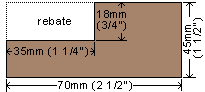 Clamp the two pieces together, setHow much the teeth are angled out on a circular saw blade. the blade on the circular power saw to the required depth and commence ripping.
Step 13: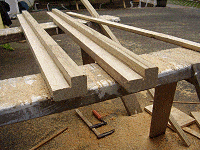 Unclamp the two pieces [j].
Re-set the depth on the circular power saw to the required depth for the second cut.
Make the second cut on each back-rest rail [j] thus completing the rebate.
Step 14: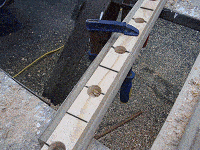 Make a pencil mark across a length of 40mm x 18mm (3/4″ x 1 1/2′) woodTimber, lumber. The hard fibrous lignified substance under the bark of trees at 70mm (2 1/2″) intervals.
Clamp the length of wood (to be drilled) on top of another piece of spare wood. This is so that when you drill through the top piece, it will not tear the wood when the drill breaks through the other side of it.
The bottom (spare) piece can later be discarded.
Drill a 25mm (1″) hole at every second marked line. See the picture.
Step 15: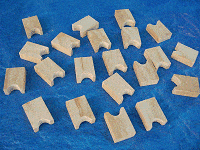 Cut through every pencil mark with a hand saw or a chop saw if you have one..
You will end up with a lot of little pieces as shown in the picture.
A little bit of sanding at this stage will not go astray.
Step 16: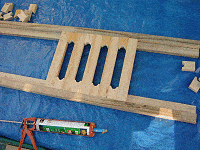 Start laying out the little decorative pieces [k] and the back slats [l] in the rebates of the two back-rest rails [j].
Do not nailA short nail with a large flat head used for securing roofing felt, plasterboard, sheet metal to wood etc. or fixTo secure with nails or screws. at this stage, just lay them in place to see how they pan out.
Step 17: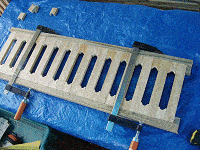 Once you have placed all the back-rest pieces [k] and [l] so that the pattern is centralized, (this was just a practice run) then you can remove them, add a bit of glue to the sides of the little decorative pieces [k] and then put them all back again.
Once re-positioned, hold everything tightly together with a couple of clamps.
`