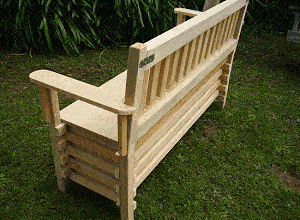 Introduction
This handy boot bench can be made in just a day. It is constructed in a typical DIY fashion i.e. it avoids complicated joints which might be too tricky for the less seasoned woodworker.
Level of expertise required: If you can comfortably rip wood (cut down lengthwise) with a circular power saw, then you should be able to undertake this project.
This particular bench was constructed outside on a picnic table under a tarpaulin on a rainy day, so it goes to show you do not necessarily need an elaborate work shed.
Minimum power tool requirements: Circular power saw, jig-saw, drill. (Mind you, a chop saw would be handy.)
Of course you will also need the usual basic hand tools which are: handsaw, pencil, measuring tape, hammer, nail set, large square and a couple of clamps.
Nails and/or screws: We have used a mixture of nails and screws in this project. Nails are used for the most part as they can be set-in and the nail holes easily filled if painting or staining is required. Screws are used in places that require a bit of extra holding power and are generally only used in less conspicuous places.
About the wood dimensions. All dimensions are given in both Metric (mm) and Imperial (inches). The size (width and thickness) of the wood referred to throughout this project is the actual size. That is the size of the lumber when it has been dressed, planed and/or seasoned. When the wood has been dressed, planed and/or seasoned it is then called the 'actual size' which is the true size. Before the lumber has been dressed, planed and/or seasoned it is called the 'nominal size'. For example: 50mm x 25mm (1″ x 2″) when dressed may become 40mm x 18mm (3/4″x 1 1/2″) actual size.
Note: The metric (mm) sizes given in this project do not convert exactly to their corresponding ft and inch equivalents.
Below are the plan drawings and cutting list with a drawing of most of the required pieces.
Under the drawings are descriptions along with dimensions of all the pieces that are in the plans.
The instructions are on successive pages.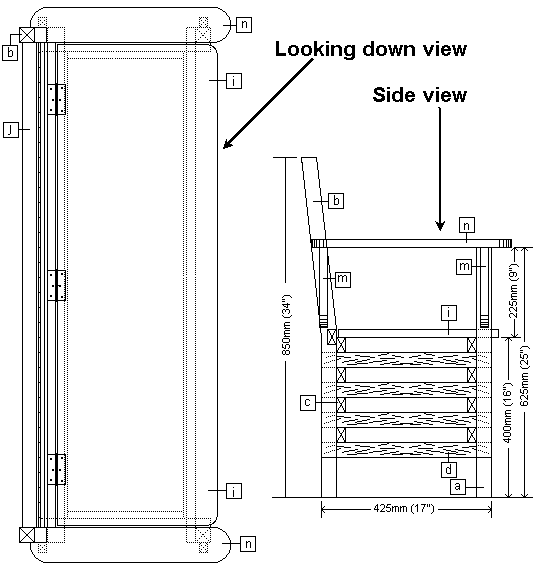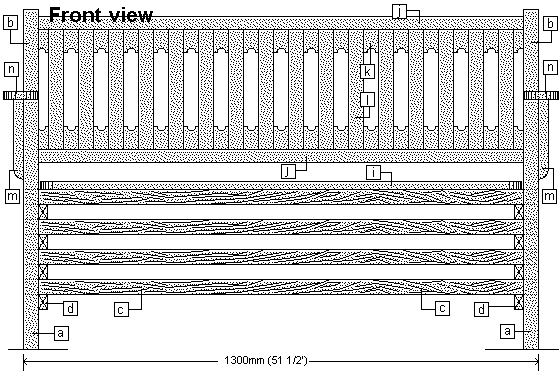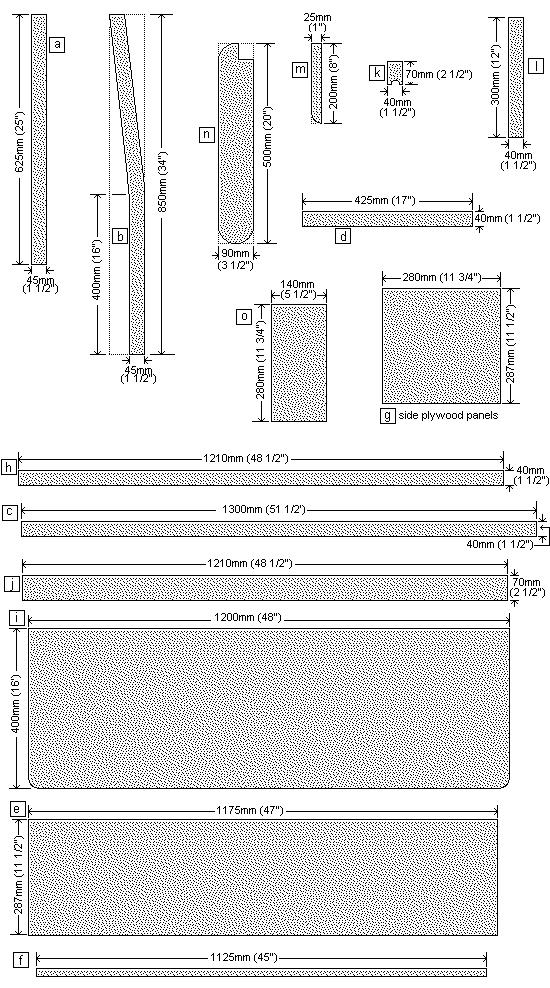 Below is a description of all the pieces of wood including sizes, lengths and amounts.
Make sure that the wood you use is suitable for exterior use. Also, if you use wood that is a different size to that stated below, make any necessary adjustments to the plans.
PART ID
DESCRIPTION

WOOD SIZE
INCHES USA

WOOD SIZE
METRIC AUST

LENGTH
INCHES USA

LENGTH
METRIC AUST

HOW MANY
PIECES

[a]
Front leg

1 1/2″ x 1 1/2″

45mm x 45mm

25″

625mm

2

[b]
Rear leg. To be shaped as shown in the instructions

1 1/2″ x 3 1/2″

90mm x 45mm

34″

850mm

2

[c]
Front and rear rails

3/4″ x 1 1/2″

40mm x 18mm

51 1/2″

1300mm

8

[d]
Side rails

3/4″ x 1 1/2″

40mm x 18mm

17″

425mm

8

[e]
Front and rear plywood panels for the boot box. Verify size on job

3/8″ thick x 11 1/2″ x 47″

9mm thick x 287mm x 1175mm

2

[f]
Strip of wood to support the boot box base

3/4″ x 3/4″

18mm x 18mm

45″

1125

2

[g]
Side plywood panels for the boot box. Verify size on job

3/4″ thick x 11 1/2″ x 11 3/4″

18mm thick x 287mm x 280mm

2

[h]
Lid support

3/4″ x 1 1/2″

40mm x 18mm

48 1/2″

1210mm

1

[i]
Lid for the boot box

3/4″ thick x 16″ x 48″

18mm thick x 400mm x 1200mm

1

[j]
Back support rails. Rebate as shown in the instructions

1 1/2″ x 2 1/2″
(rip out of 1 1/2″ x 3 1/2″)

70mm x 45mm

48 1/2″

1210mm

2

[k]
Back rest decorative pieces. Shape as shown in the directions

3/4″ x 1 1/2″

40mm x 18mm

2 1/2″

70mm

Approximately 34

[l]
Back slats

3/4″ x 1 1/2″

40mm x 18mm

12″

300mm

Approximately 16

[m]
Arm rest supports

3/4″ x 1″ (approx)

25mm x 18mm (approx)

8″

200mm

4

[n]
Arm rest

3/4″ x 3 1/2″

90mm x 18mm

20″

500mm

2

[o]
Boot box base

3/4″ x 5 1/2″

140mm x 18mm

11 3/4″

280mm

Approximately 9