Steps 1 to 3
Cut all the pieces
First cut all the pieces to length as given in the 'cutting list'.
Some pieces need to be angle-cut and shaped. There is a drawing of every piece of woodTimber, lumber. The hard fibrous lignified substance under the bark of trees on the previous page.
The handle shape can be easily marked by using the grid plan (see the previous page).
Step 1. Make up the sides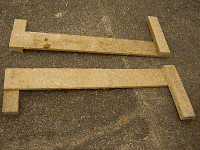 NailA short nail with a large flat head used for securing roofing felt, plasterboard, sheet metal to wood etc. the front legs [d] and the back legs [c] to the side pieces [a].
The two sides must be made up as a mirror image of each other.
Us the picture as reference.
Step 2. Add the strengtheners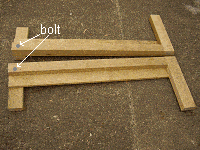 Nail the strengtheners [a2] to the sides [a] and the front and back legs [c, d].
Drill and boltA metal rod that has a head on one end and threads on the other and is used to fasten together lumber. The most common bolts used or referred to in projects within this website are coach/carriage bolts and hex bolts. through the strengthener [a2], side [a] and the front leg [d] on each side.
Use 10mm (3/8″) galvanizedCovered with a protective coating of zinc. carriage boltsAre round headed bolts with square shoulders that resist rotation when located or driven into place. They can be called coach bolts or carriage bolts depending on which part of the world you live in. The head end of the bolt does not need a washer, but the other end of the bolt (the nut end) usually does..
Step 3. Fix the two end pieces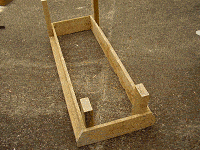 Nail the two end pieces [b, b2] to the sides [a], strengtheners [a2] and the front and back legs [c, d] making a rectangleFour-sided figure with four right angles..
This rectangle serves as the outside frame of the wooden push cart, albeit upside down.
If need be, refer to the plan and parts drawing on page two for part identification (part numbers and letters).