Steps 6 to 8
Step 6. Add the axle and wheels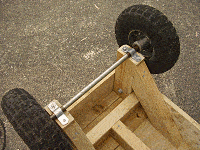 Turn the unit upside down and add the wheel and axle setHow much the teeth are angled out on a circular saw blade..
FixTo secure with nails or screws. the axle to the front legs [d] with pipe saddle clips and galvanizedCovered with a protective coating of zinc. metal strapShort lengths of metal strap 25×1 (1/16×1) used to fix members together to resist uplift. (or with other suitable fixings).
Note: This particular wheel and axle set was sourced from an old hand truck.
If you source a wheel and axle set with a different wheel diameter and axle width, then you will need to make suitable adjustments to the
plan.
Step 7. Add the handles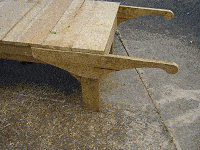 Simply a matter of adding the handles and…
Finished!
Keep it away from the kids and you might even get a turn yourself!