Making the floor and the wall frames
Step 1. The floor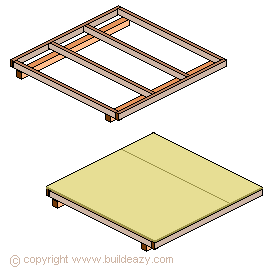 Place the 4″ x 4″ (100mm x 100mm) skids level and parallel on firm ground. See the front elevation plan on page five for placement.
On level ground, make up the Floor Frame comprising of two end joists, two intermediate joists evenly spaced, and two boundary joists – all 2″ x 4″ (100mm x 50mm) stock. The end result should be a square 72″ x 72″ (1800mm x 1800mm). Place the square floor frame on top of the skids and fasten in place.
Cover the floor with 3/4″ (18mm) plywood, nailing a maximum of 8″ (200mm) apart on all joists. Any join should be on a joist.
All the wood used in the floor structure should be suitable for exterior use.
Step 2. The frame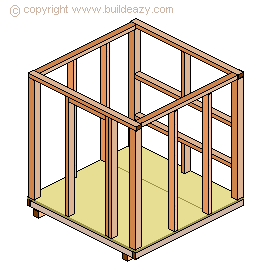 Make up the wall frames as shown in the drawing. The dimensions and stud placements can be seen in the plans ('looking down view' on page four) and the height of the horizontal nest support members in the rear wall can be seen in the plans ('side elevation' on page six). The four corner studs are of 4″ x 4″ (100mm x 100mm) stock. The rest of the frame is 2″ x 4″ (100mm x 50mm) stock.
In this particular case there is no bottom plate – the studs are nailed directly to the floor. This will make the floor easier to clean out.
The positioning of the studs either side of the door can be altered if need be, to suit a different size or style of door.
Reader Interactions