Fixing the wall cladding 
Step 5. The

wall cladding

The exterior surface of a wall.

(

siding

The outer covering of a building meant to shed water and protect from the effects of weather.

)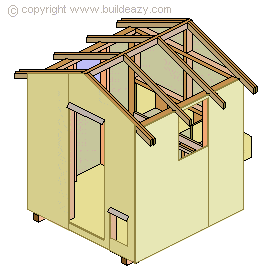 FixTo secure with nails or screws. 3/4″ (18mm) thick exterior-type plywoodA piece of wood made of three or more layers of wood veneer laminated together with glue. to the frame, making sure that all joins are over a studA 100×50 (2×4) vertical framing member used to construct walls..
Make the bottom of the chicken hatchway opening at least 3″ (75mm) above the floor level to stopThe part of the plywood wall panels that overlaps the door and window frame, and protrudes into the door or window area and covers any gaps between the door/window and the surrounding frame. It acts as a stop for the door and also stops the rain getting in. any litter falling out.
Insert galvanizedCovered with a protective coating of zinc. flashingAny piece of material, usually metal or plastic, installed to prevent water from penetrating the structure. at the top of the doorway, the chicken hatchway and above the nesting boxes lid.
The flashing should tuck under the plywood claddingThe exterior surface of a building. by about 2″ (50mm) at the top of each opening and then angle out, also about 2″ (50mm). The flashing is to deflect the rain or any dripping.
Note that the windows will not need any flashing as they are tucked up under the eavesThe part of the roof which extends beyond the exterior side wall. The projecting lower edge of a roof where the gutters are located. The eaves are made up of both the soffit (covering for underside of an overhang) and the fascia (A horizontal trim fixed to the ends of the roof rafters). of the roof.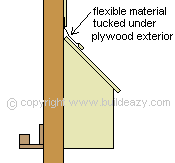 Before fixing the plywood cladding above the nesting boxes, run a flexible waterproof type of material under the plywood and over the top of the lid. This is to waterproof the hinged area of the lid, yet still allow the lid to be lifted. Even heavy-duty waterproof canvas will do the trick, although the end of the canvas would need to be wrapped around and fixed to a strip of woodTimber, lumber. The hard fibrous lignified substance under the bark of trees or similar that will act as a weight and stop the canvas from blowing up.
Reader Interactions