Fixing the wall cladding 
Step 5. The wall cladding (siding)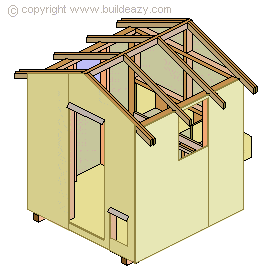 Fix 3/4″ (18mm) thick exterior-type plywood to the frame, making sure that all joins are over a stud.
Make the bottom of the chicken hatchway opening at least 3″ (75mm) above the floor level to stop any litter falling out.
Insert galvanized flashing at the top of the doorway, the chicken hatchway and above the nesting boxes lid.
The flashing should tuck under the plywood cladding by about 2″ (50mm) at the top of each opening and then angle out, also about 2″ (50mm). The flashing is to deflect the rain or any dripping.
Note that the windows will not need any flashing as they are tucked up under the eaves of the roof.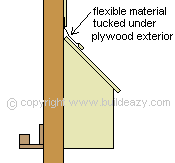 Before fixing the plywood cladding above the nesting boxes, run a flexible waterproof type of material under the plywood and over the top of the lid. This is to waterproof the hinged area of the lid, yet still allow the lid to be lifted. Even heavy-duty waterproof canvas will do the trick, although the end of the canvas would need to be wrapped around and fixed to a strip of wood or similar that will act as a weight and stop the canvas from blowing up.
Reader Interactions