How to build a Chicken 🐔 Coop
Fixing the

roof boards

Boards used to cover the roof.

and

battens

Narrow board used to cover claddingThe exterior surface of a building. joins or used for decorative purposes.
Step 6. The roof and the battens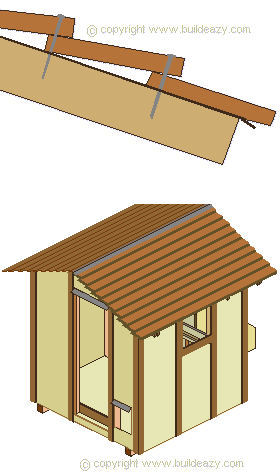 Lay tar paper, heavy breather-type building paper or similar roofing underlayA building paper that covers roof frame prior to the cladding being fixed. Reduces air movement and helps avoid the risk of water ingress. over top of the rafters, ensuring it is taut and waterproof prior to putting on the roofing boards.
NailA short nail with a large flat head used for securing roofing felt, plasterboard, sheet metal to wood etc. the 1″ x 6″ x 8ft (150mm x 25mm x 2400mm) roofing boards to the rafters with 3″ (75mm) galvanizedCovered with a protective coating of zinc. flathead nails.
Start at the bottom of the rafterStructural member of a roof that supports the roof load and runs from the ridge to the top of the side walls. and then work your way up, overlapping each boardA piece of sawn, or dressed lumber of greater width than thickness. Usually 19mm (3/4") to 38mm (1 1/2") thick and 75mm (3") or more wide. by at least 1″ (25mm). Nail through both boards where they overlap and ensure the overhang at each end of the chicken coop is equal.
Apply a galvanized flashingAny piece of material, usually metal or plastic, installed to prevent water from penetrating the structure. (ridgeThe horizontal line at the top of opposing sloping sides of a roof running parallel with the building length. cappingCovering) at the apex of the roof, covering at least 4″ (100mm) each side.
FixTo secure with nails or screws. the 1″ x 4″ (100mm x 25mm) battens over the plywoodA piece of wood made of three or more layers of wood veneer laminated together with glue. claddingThe exterior surface of a building. at each join, each studA 100×50 (2×4) vertical framing member used to construct walls., and at the corners and sides of every doorA horizontal framing member above the door/window opening. and window. Preferably the battens should have a groove each side of the join to stopThe part of the plywood wall panels that overlaps the door and window frame, and protrudes into the door or window area and covers any gaps between the door/window and the surrounding frame. It acts as a stop for the door and also stops the rain getting in. water being drawn up by capillary action.
Screw the 1″ x 6″ (150mm x 25mm) litter board to the inside of the studs at each side of the door opening. The litter board is just to stop the litter from falling out. When the chicken coop needs a clean out, the litter board can be removed.