How to build a Chicken 🐔 Coop
Fixing the roof boards and battens
Step 6. The roof and the battens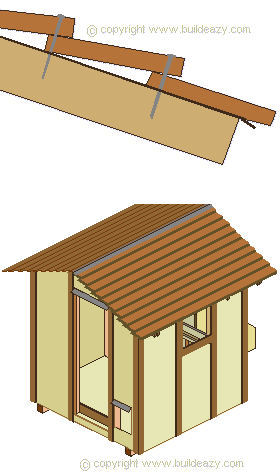 Lay tar paper, heavy breather-type building paper or similar roofing underlay over top of the rafters, ensuring it is taut and waterproof prior to putting on the roofing boards.
Nail the 1″ x 6″ x 8ft (150mm x 25mm x 2400mm) roofing boards to the rafters with 3″ (75mm) galvanized flathead nails.
Start at the bottom of the rafter and then work your way up, overlapping each board by at least 1″ (25mm). Nail through both boards where they overlap and ensure the overhang at each end of the chicken coop is equal.
Apply a galvanized flashing (ridge capping) at the apex of the roof, covering at least 4″ (100mm) each side.
Fix the 1″ x 4″ (100mm x 25mm) battens over the plywood cladding at each join, each stud, and at the corners and sides of every door and window. Preferably the battens should have a groove each side of the join to stop water being drawn up by capillary action.
Screw the 1″ x 6″ (150mm x 25mm) litter board to the inside of the studs at each side of the door opening. The litter board is just to stop the litter from falling out. When the chicken coop needs a clean out, the litter board can be removed.