Door, hatchway and windows
Step 7. Door, hatchway, and windows
The door
A basic door can be made from 3/4″ (18mm) thick exterior plywood.

A hole can be cut out for a window and covered with a piece of clear acrylic sheet (plastic glass) about 2″ (50mm) bigger than the hole, all the way around. The acrylic sheet can be fixed to the door with screws. Drill the screw holes in the sheet first and apply a bead of clear waterproof sealant around the edge of the acrylic sheet before screwing it in place.
The door should have a 1/4″ (6mm) gap each side and the bottom should be slightly above the top of the litter board. When the door is hinged in place (to open in), add the door stops (see diagram).
The windows
The windows in the walls can be made in the same way as the door window (mentioned above).
The hatchway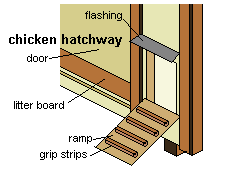 Make the chicken hatchway door so that it is hinged at the bottom and can be opened down to form a ramp. Make the door bigger than the hole, so when the door is closed it will fit between the battens on the side and tuck neatly under the flashing at the top.
You will need to add some type of pad bolt or latch to keep the hatchway door closed.