Door

A horizontal framing member above the door/window opening.

, hatchway and windows
Step 7. Door, hatchway, and windows
The door
A basic door can be made from 3/4″ (18mm) thick exterior plywoodA piece of wood made of three or more layers of wood veneer laminated together with glue..

A hole can be cut out for a window and covered with a piece of clear acrylic sheetAny broad, thin surface. (plastic glass) about 2″ (50mm) bigger than the hole, all the way around. The acrylic sheet can be fixed to the door with screws. Drill the screw holes in the sheet first and apply a beadBeading. Thin line of sealant. of clear waterproof sealantA pliable substance used to seal a surface to prevent passage of a liquid. around the edge of the acrylic sheet before screwing it in place.
The door should have a 1/4″ (6mm) gap each side and the bottom should be slightly above the top of the litter boardA piece of sawn, or dressed lumber of greater width than thickness. Usually 19mm (3/4") to 38mm (1 1/2") thick and 75mm (3") or more wide.. When the door is hinged in place (to open in), add the door stops (see diagram).
The windows
The windows in the walls can be made in the same way as the door window (mentioned above).
The hatchway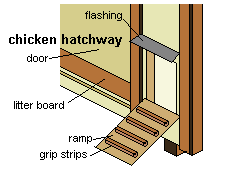 Make the chicken hatchway door so that it is hinged at the bottom and can be opened down to form a ramp. Make the door bigger than the hole, so when the door is closed it will fit between the battensNarrow board used to cover claddingThe exterior surface of a building. joins or used for decorative purposes. on the side and tuck neatly under the flashingAny piece of material, usually metal or plastic, installed to prevent water from penetrating the structure. at the top.
You will need to add some type of pad boltA metal rod that has a head on one end and threads on the other and is used to fasten together lumber. The most common bolts used or referred to in projects within this website are coach/carriage bolts and hex bolts. or latchThe locking device on a door or window. to keep the hatchway door closed.