The perch, the mesh and ventilation
Step 8. Perch, mesh, ventilation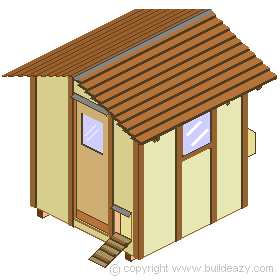 Add the perch as shown in the plans 'front elevation' and 'side elevation'). The perch can be supported by a 2″ x 2″ (50mm x 50mm) prop at one end and fixed to the lower part of the storage boxRough grade timber. at the other end with a joistOne of a series of parallel members used to support the floor. Part of the framing that provides the structure for a floor. hanger (or similar type of fixing bracket).
Ventilation
At the top of the side wall there will be a gap between the top of the wall claddingThe exterior surface of a wall. and the underside of the roofing boards. This gap can be covered with a suitable mesh or purpose-made vents. They can be fitted between the rafters and fixed to the top of the plywoodA piece of wood made of three or more layers of wood veneer laminated together with glue. exterior claddingThe exterior surface of a building..
And finally!
A bit of paint and it's finished!
Different climatic conditions and environments may necessitate additions and/or variations to this basic plan. For example, in hotter climates the chicken coop may need to be insulated and have windows that can be opened. In colder areas the chicken coop may need to be insulated and have shutters that can cover any ventilation areas.
As stated at the beginning, the best type of information and knowledge available is local knowledge, so ask around.