The Plans and the Material Requirements. 
Below are the plan drawings with the material requirements listed below.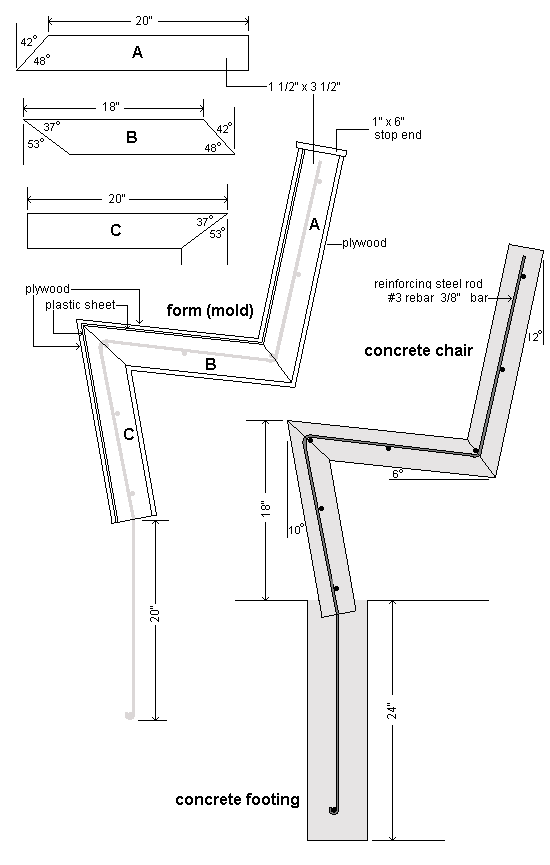 For this project you will need…
For the sides of the form
12ft of 1 1/2″ x 3 1/2″ lumberAny of the framing wood..
For the back of the form – PlywoodA piece of wood made of three or more layers of wood veneer laminated together with glue. (at least 1/2″ thick)
one piece 21 1/2″ wide by 15 1/2″ long
one piece 21 1/2″ wide by 16 1/2″ long
one piece 21 1/2″ wide by 23 1/2″ long
For the front of the form – Plywood (at least 1/2″ thick)
one piece 21 1/2″ wide by 20″ long
one piece 21 1/2″ wide by 18″ long
one piece 21 1/2″ wide by 20″ long
Also, three pieces of plastic sheetAny broad, thin surface. the same width and length as the front plywood above.
The plastic sheet can be any thickness (for example 1/8″). Its sole purpose is to give the concreteA mixture of sand, gravel, water and cement which hardens to a stone like condition when dry. a smooth finish.
For the top of the form – The stopThe part of the plywood wall panels that overlaps the door and window frame, and protrudes into the door or window area and covers any gaps between the door/window and the surrounding frame. It acts as a stop for the door and also stops the rain getting in. end
one piece of 1″x6″ boardA piece of sawn, or dressed lumber of greater width than thickness. Usually 19mm (3/4") to 38mm (1 1/2") thick and 75mm (3") or more wide. 21 1/2″ long
Reinforcing steel
30ft of deformed (ribbed) reinforcing steel rod #3 rebar (3/8″ thick).
You can find more information about reinforcing steel here.
Concrete
You can make mix your own concrete using cementA powdery type substance made from a mixture of earths materials such as limestone and shale, which is sintered (cause to become solid mass by heating without melting), ground, and mixed with small amounts of calcium sulphate and calcium carbonate. Cement is activated by water and when mixed with gravel and sand, forms concrete., sand and gravel. For information about how to mix concrete click here.
Alternatively you can buy bags of cement, gravel and sand (or similar type of aggregate) already mixed, which only require the addition of water to make concrete. I used seven 80 lb bags. You may need more or less depending on the size of the footingA base (in or on the ground) that will support the structure. hole.
Other bits and pieces
Screws to hold the form together, tie wire to hold the reinforcing steel together, some woodTimber, lumber. The hard fibrous lignified substance under the bark of trees (plywood or board) for the form bracing, and a load of blocks to pack the chair up and for form strengthening.