Placing the reinforcing steel
Step 5. Positioning the form for the steel and

concrete

A mixture of sand, gravel, water and cement which hardens to a stone like condition when dry.
Sit the form UPSIDE-DOWN on blocks of woodTimber, lumber. The hard fibrous lignified substance under the bark of trees, or any other suitable solid structure.


Ensure the top stopThe part of the plywood wall panels that overlaps the door and window frame, and protrudes into the door or window area and covers any gaps between the door/window and the surrounding frame. It acts as a stop for the door and also stops the rain getting in. end (which is now at the bottom, because the chair is upside-down) is resting on the ground.


IMPORTANT
Don't prop the form on anything flimsy, as once the concrete goes in, it will be very heavy.
Step 6. Preparing the reinforcing steel
Cut and bend three pieces of #3 rebar (which is 3/8″ diameter rod) to the shape of the chair allowing for an extra 20″ protruding past the bottom of the form. Refer to the plans


Tip: Use water pipe to help bend the steel. See the picture below.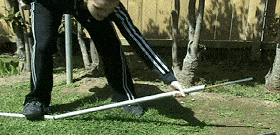 Step 7. Placing the steel in the form
Place the steel reinforcing in the form so that it makes a grid and tie it together with tie wire.


The steel should be sticking out the top of the form by about 20″.
The top is really the bottom because the form is currently upside down, remember?


The steel that is sticking out of the form will eventually become the steel that goes into the footingA base (in or on the ground) that will support the structure. hole.