Introduction, digging the hole and the plan drawing
Introduction
Not only does a concrete gate post look good and have a bit of a stately feel about it, but unlike its lumber counterpart it is not prone to twisting, bending, warping or bowing. In fact it is not going anywhere for a long while. Sure, there's a bit more work involved than with a lumber post but the extra effort is well worth the bother.


This is how the concrete posts were made…
Digging the hole
The post placings were determined, their positions were marked on the ground and the footing holes were dug.


The holes were made 400mm (16″) square, which was slightly bigger than the size of posts, and dug to a depth of 1000mm (40″).


There were no frost lines to worry about and the ground was very firm, so we concluded that digging to 1000mm (40″) was deep enough to support the posts.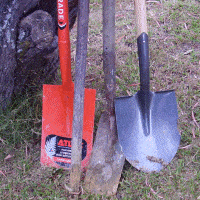 Digging equipment
The digging arsenal consisted of:

 a very sharp spade for cutting through hedge roots;

 a medium-size shovel to remove the loose debris from the top of the hole;

 a long thin hooked shovel to remove the loose debris from the bottom of the hole, and

 a 1800mm (6ft) long heavy bar with a point on one end and a chisel point on the other end for breaking up the ground.


The tops of the holes were dug with a spade and shovel but once down to a depth of about 400mm (16″), the ground was broken in increments of about 3 or 4 inches deep at a time using the bar and the debris removed with the long thin shovel.
Plan Drawing