Preparing and pouring the concrete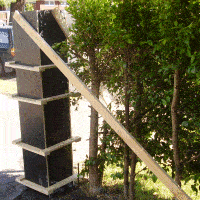 Bracing the form and placing the steel reinforcing cage
The form was positioned upright in place and braced with two diagonal braces at right angles to one another.


The braces were fixed to the top of the form with screws at one end and clamped to stakes hammered into the ground at the other end.


The bottom of the form was also fixed to a couple of stakes to prevent the form from rising.


When the form was fixed firmly in place and plumb (upright), then the reinforcing cage was placed inside. See plan (Page 1).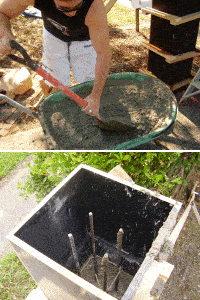 Mixing and pouring the concrete
The concrete was mixed in a wheelbarrow and bucketed into the form.
Note: For information on how to mix concrete click here
Note: When concrete is dropped down a long chute, such as the form, the concrete can break down when hitting the bottom and make the mix very weak, therefore… after every wheelbarrow full of concrete has been bucketed into the form, it is important to 'remix' and settle the concrete. Poke the freshly poured concrete repeatedly with a piece of steel rod, i.e. push and pull a piece of rebar continuously in and out of the concrete.
This will settle the concrete, get rid of any air pockets and makes the concrete nice and smooth against the form.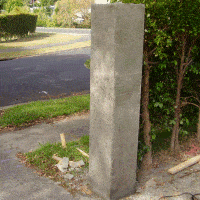 The finished post
After a week, the formwork was stripped off very carefully so as not to damage the concrete.


The concrete finish had a few imperfections in it but it looked good. The slight imperfections aged the post, which was very much in keeping with the style and age of the house.


We decided to retain that look.


An alternative would have been to render (plaster) the post but we felt that would have made the post look too neat and prim.


To see how to make caps for the concrete posts click here