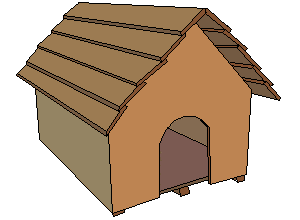 Introduction
All measurements throughout this project are given in both standard (ft and inches) and metricMillimeter measurements. (mmAbbreviation for millimeter which is a metric unit of length equal to one thousandth of a meter. 25.4 mm equals one inch.).
The imperialStandard. Feet and inch measurements. (standard) measurements are given first followed by the metric measurements in brackets ().

The doghouseA shelter for a dog An outbuilding that serves as a shelter for a dog stands 34″ (850mm) high, it is 32″ (800mm) wide, and 48″ (1200mm) long.
It will accommodate a reasonably large dog but is still suitable for smaller dogs.
The doghouse is constructed out of 150mm x 25mm (1″ x 6″) boards for the floor and roof, 50mm x 50mm (2″ x 2″) lumberAny of the framing wood. for the framing and skids and 10mm (3/8″) thick exterior type plywoodA piece of wood made of three or more layers of wood veneer laminated together with glue. for the walls.
A bit about the framing lumber size
If you use dressedSurfaced; planed; smooth; even surface; gauged. (smooth, surfacedSee Dressed., planed) lumber for the frame, then the finished (actual) size of the woodTimber, lumber. The hard fibrous lignified substance under the bark of trees (width and thickness) will be less than the size given above.
50mm x 50mm (2″ x 2″) wood, when dressed (smooth, surfaced, planed) will become approximately 1 1/2″ x 1 1/2″ (45mm x 45mm).
If you use dressed lumber you will need to make adjustments to the measurements given in the cutting list. Refer to note 2 on the next page for more information.
Alternative wood sizes
If 2″ x 2″ (50mm x 50mm) stock is not available in your area, one option is to ripA cut lengthwise along a board that also runs with the grain. (As opposed to cross-cut.) (cut lengthwise) 2″ x 4″ (100mm x 50mm) stock in half. The latter is very common.
If 1″ x 6″ (150mm x 25mm) boards are unobtainable, then use different size boards or even plywood.
Treated

Pressure treated. Refers to lumber that is treated in such a way that the sealer is forced into the pores of the wood. Refers to lumber pressure sprayed with chemicals to lengthen its life expectancy for outside use or inground applications.

wood and your dog
Some dogs gnaw on wood and some treated woods contain preservatives that can be toxic. If you have such a dog then be careful of the type of wood that you use. Some woods are naturally resistant to decay and do not need treatment. Your local lumber store will be able to advise you on the best types of wood to use.
About the painting
Any untreated wood should be painted using Wood Primer, Enamel Undercoat and Super Gloss Enamel. When dried the paint would be non-toxic to dogs chewing, but any damage taking the paint system back to bare wood would eventually allow water and increase the danger that the lumber may eventually begin to rot.