Introduction and Description
Introduction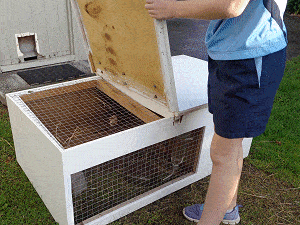 This is an outside hutch where the guinea pig can spend the warmer months.
In the summer an outside hutch is great, guinea pigs love to eat fresh grass. Come winter, this particular guinea pig is moved to a cage inside the house.
This hutch was purpose-made for Milo, my granddaughter's guinea pig.
Milo already had an inside cage, but we decided he'd benefit from an outdoor house where he could safely spend time outdoors during the warmer months – fresh air and green grass.
Different places have different climates and conditions.
There is no knowledge as good as local knowledge. So, before you embark on this venture, why not have a chat to the staff at your local pet store, or to a neighbor who has guinea pigs, to see if this type of hutch will suit your needs.
Description
The hutch has a 'no floor' grass area, as well as a floored sheltered room. The lid can be folded back to open up the 'no floor' grass area.
When the lid is folded back, a meshed roof keeps out any unwanted predators.
Should the weather look dicey, the lid can be folded down. It can also be taken off completely to clean the hutch.
Basically, this hutch is a boxRough grade timber. with a lid.
The box has an internal wall that splits it into two rooms.
One room is without a floor and has an open mesh window and mesh top (the outside area). The other has a floor and no windows (the shelter area).
The lid is in two parts, hinged together. The lid can be a half cover (covering shelter area only), full cover (for bad weather), or taken off altogether (for cleaning).
The lid is plywoodA piece of wood made of three or more layers of wood veneer laminated together with glue. with a rim fixed around it. The rim keeps it snugly in place on top of the box, stopping it from falling off.
The lid is slanted to allow water run-off.
Overall, the box is 50″ (1270mm) long by 26-3/4″ (619mm) wide: a one pig hutch.
Tried and tested
This hutch has been up, running and occupied by Milo for six months prior to these writings.
The hutch is in good stead, as is the happy and healthy guinea pig.
In fact, he has spent the summer months outside in the hutch and is due to move to his inside cage for the winter.
The measurements throughout this project are given in both standard (inches) and metricMillimeter measurements. (mmAbbreviation for millimeter which is a metric unit of length equal to one thousandth of a meter. 25.4 mm equals one inch.).
The standard measurements are given first, followed by the metric measurements in brackets ( ). For example: 2×2 (50mm x 50mm).
The sizes mentioned herein are the nominal sizes (in name only). The real (actual) sizes of the woodTimber, lumber. The hard fibrous lignified substance under the bark of trees will be less once the wood has been dimensioned (dressedSurfaced; planed; smooth; even surface; gauged., planed).
For example: 2×2 stock (nominal sizeThe rough-sawn size of a piece of lumber. Before the lumber is surfaced, planed or dressed. The nominal size is usually greater than the actual dimension. e.g. 100x50 (2 x 4) actually equals 90x45 (1 1/2" x 3 1/2").) once dressed will be 1-1/2″ x 1-1/2″.